A 'soap bubble' has been spotted in outer space. The image below is a newly discovered planetary nebula which was officially named PN G75.5+1.7 last week.
Planetary nebulae, which got their name after being misidentified by early astronomers, are formed when an ageing star weighing up to eight times the mass of the sun ejects its outer layers as clouds of luminous gas. Most are elliptical, double-lobed or cigar-shaped, evolving after stars eject gas from each pole (see a gallery of the nebulae).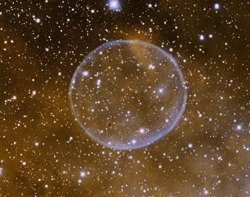 Dave Jurasevich of the Mount Wilson Observatory in California spotted the "Cygnus Bubble" while recording images of the region on 6 July 2008. A few days later, amateur astronomers Mel Helm and Keith Quattrocchi also found it.
The bubble has been there a while. A closer look at images from the second Palomar Sky Survey revealed it had the same size and brightness 16 years ago. Jurasevich thinks it was overlooked because it is very faint.
"It's a beautiful example," says Adam Frank of the University of Rochester, New York. "Spherical ones are very rare." One explanation is that the image is looking down the throat of a typical cylindrical nebula. However, it is still remarkably symmetrical, Frank says.
This article first appeared on New Scientist.
Email Alerts
Register now to receive ComputerWeekly.com IT-related news, guides and more, delivered to your inbox.
By submitting your personal information, you agree to receive emails regarding relevant products and special offers from TechTarget and its partners. You also agree that your personal information may be transferred and processed in the United States, and that you have read and agree to the
Terms of Use
and the
Privacy Policy
.