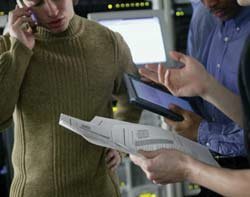 In this guide you will learn how to accept IT consumerisation as part of your IT department. As enterprises proactively address this trend, new relationships with between the IT department and users are being developed; however so are new fears.
Learn how to secure a mobile environment, the best networking techniques and how to benefit from BYOD.
Desktop computing is no longer about IT providing tools for employees. Consumer technology requires a rethink of IT support.
IT consumerisation featured articles
Data centres gear up for IT consumerisation with desktop virtualisation notification opposed by ICO
A move towards desktop virtualisation is a move in the right direction, when preparing for IT consumerisation according to experts.
How to strategise enterprise device management
The traditional one-size fits all strategy can easily fail when taking IT consumerisation into consideration. Read why an open approach is better.
Mobile BI gaining traction in UK corporate IT
Mobile business intelligence is being more popular within organisations, according o a survey from the Corporate IT Forum.
How to take control of smartphone proliferation and avoid user anarchy
More IT teams are turning to MDMs to keep corporate data safe, but are they up to the task?
Four mobile device security threats and only three tools to manage them
Rob Shapland outlines four mobile device security threats and how to keep on top of them.
IT consumerisation to make data protection worse
If you think it's been hard enough to protect your company's data at remote locations, then it is about to get worse with the consumerisation of IT.
The best way to create a BYOD policy
To avoid IT security management nightmares BYOD policy is a must have. Find out what and what not is needed.
The best way to mobile apps changing the face of cloud based IT
Cloud computing applications allow users to work from any device, so here is how to embrace control of your mobile cloud apps.
IT consumerisation video interviews
Latest articles on IT consumerisation
News, views and reviews on laptops, smartphone, tablets and IT consumerisation