MongoDB Atlas adds MongoMirror, hey good lookin'
MongoDB is an open source NoSQL cross-platform document-oriented database company favouring dynamic schemas. The firm has this month announced a new free developer-focused tier for its DataBase-as-a-Service offering, MongoDB Atlas.

Download this free guide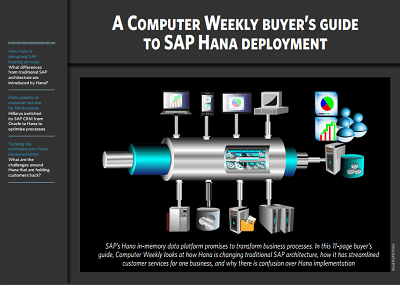 Computer Weekly's Buyer's Guide to SAP HANA Deployment
SAP's Hana in-memory data platform promises to transform business processes. Computer Weekly looks at how Hana is changing traditional SAP architecture, how it has streamlined customer services for one business, and why there is confusion over Hana implementation.
By submitting your personal information, you agree that TechTarget and its partners may contact you regarding relevant content, products and special offers.
You also agree that your personal information may be transferred and processed in the United States, and that you have read and agree to the Terms of Use and the Privacy Policy.
The firm is twinning this release with the launch of a new utility called MongoMirror to support the live migration of data from either on-premise or in the cloud, to MongoDB Atlas.
Major laser, focus
"Since we first introduced MongoDB to the community in 2009, we have been laser-focused on one thing — building a technology that gets out of the way of developers and makes them more productive," said Eliot Horowitz, CTO and Co-Founder of MongoDB. "Now, with these updates to MongoDB Atlas, we're tearing down more of the barriers that stand between developers and their giant ideas."
MongoDB Atlas now offers a free cluster with 512 MB of storage. As with all dedicated MongoDB Atlas clusters, the nodes in a free tier deployment are distributed for high availability.
SCRAM secure
Users will also have their data secured by default with authorization via SCRAM-SHA-1, TLS/SSL encryption for data traveling over networks and encrypted storage volumes for data at rest.
According to the firm, "For users who are already running MongoDB, the new MongoMirror migration utility enables them to pull data from their pre-existing deployments and push it into MongoDB Atlas for a simplified live migration process. The MongoMirror migration utility will work with any pre-existing MongoDB replica set running MongoDB 3.0 or higher."
A hosted version of this live migration tool will soon be available in MongoDB Atlas.