Data backup solutions: Backing up virtual machines gains ground
Server virtualisation has made an impact on the state of data backup, leading to advancements in the enterprise and midrange backup markets, changes in the way VMware APIs work with backup, and more.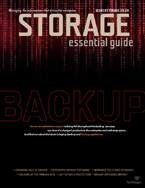 Numerous storage developments are influencing European IT administrators' priorities for 2012. According to a recent TechTarget survey of 225 of these professionals, backing up virtual machines was at the top of their list of storage priorities alongside disaster recovery -- demonstrating just how much server virtualisation has influenced the current state of data backup. Download this free Essential Guide to data backup solutions and find out more about recent trends in backup, including advancements in enterprise backup products, developments in the midrange data backup market, how VMware's APIs have transformed the backup process, and more.
Virtual server backup is a big thing right now, and a recent IT priorities survey run by SearchStorage.co.UK parent company TechTarget confirms this. The survey interviewed 225 European IT professionals, mostly at IT director or CIO level, and among other things it asked them their key storage priorities for 2012.
Backing up virtual machines was joint highest priority (39%) with disaster recovery as a storage-related project for those questioned. Elsewhere in the survey, the reasons behind VM backup as a priority are evident, with server virtualisation the runaway leader as the key project IT departments are involved in right now. When you virtualise servers, you have to protect them, and that's what's going on here.
Of course, any survey is a snapshot, a moment in time, but if we look elsewhere in the survey we can see some important indicators of the likely contours for backup and data protection over the next few years, and it's possible that a few years down the road, backup as we know it may be a thing of the past.
First of all, there is the joint frontrunner with VM backup in the list of storage priorities -- namely disaster recovery, which to some extent signifies an erosion of traditional data backup solutions.
Disaster recovery seems to have been building in IT peoples' consciousness over the past three or four years. Not so long ago, I can recall conversations with many organisations, admittedly mostly at the SMB level, that left me shuddering on their behalf at the lack of resilience they possessed if a severe outage hit them. But that's a sense that's faded as time has gone by, and whether compelled by good sense or legal or industry regulation, the development of adequate disaster recovery provision is firmly lodged in the collective IT mind now.
Of course, it's possible to effect disaster recovery with traditional backup. You need only back up to tape and take it off-site and voilà, you're protected, albeit relatively crudely.
But more and more people are leaving behind traditional backup for forms of remote copy. Our Purchasing Intentions survey, carried out among 302 UK storage professionals in early 2011, found that the key disaster recovery spending item for around two-thirds of those questioned is remote replication.
It's easy to see why forms of replication (CDP, snapshotting, etc) are so popular. Decreasing bandwidth costs, coupled with the ease and relative cheapness of hardware-neutral virtual servers, means replicating to secondary DR sites is becoming simpler and more affordable. At one time, a secondary site would need to be a complete hardware and software replica of the primary site. Now, with virtual servers able to run on any hardware, that's just not the case anymore. And replication means doing away with the pain of the backup window, as data is replicated in real time or near real time.
If that trend continues, it'll be a nail in the coffin of backup as we know it. Then there is the cloud. The IT priorities survey has it as a minority interest. But as a priority for 21% of respondents, it's clearly a significant development. Of course, here again, it's possible to use the cloud as a backup target in the traditional way, and the past couple of years have seen backup software vendors adding cloud backup to their feature list. And certainly there are many people still with reservations about the cloud, as the survey indicates, with security and reliability key concerns stifling its take-up.
But that won't be the case forever. Over the next few years, bandwidth and security provision will certainly achieve standards of performance that will make the cloud acceptable to most business IT users. That will accelerate its use as a backup target -- among other things, even primary data -- but will also see its rise as a target for replication. For, in fact, entire secondary data centres could become third-party cloud-operated.
And so, while our survey shows virtual machine backup as a key contemporary priority, it also shows the likely nails in the coffin of backup as we know it. Will we even speak about backup in 10 years' time?
Antony Adshead is bureau chief of SearchStorage.co.UK.