First pictures of Google Chrome OS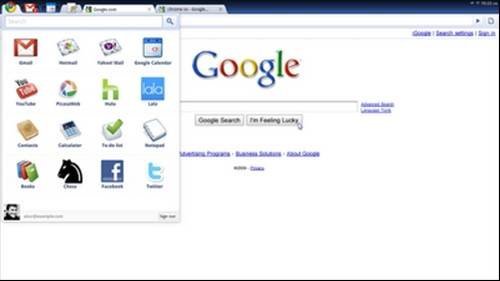 Chrome OS application menu
Just like a desktop operating system, users can access programs from the Chrome OS application menu. In this screenshot, the user has access to several applications, including GMail, Twitter, Facebook, Google Calendar and Picasso.
Google said the Chrome OS operating system is able to take advantage of graphics processors, multi-core architectures and multimedia peripherals that web applications have previously been unable to access. This means that users no longer need to run Adobe Flash Player or Microsoft Silverlight to access multimedia, play computer games or use rich internet applcations.
Chrome OS exposes peripherals and local storage to web application, to make such applications as functional as desktop applications. There is no concept of local storage. Although hardware will include solid state disk drives, these will be used as data caches, to enable users to work offline. The data is synchronised with cloud-based storage when the user has a live internet connection.
View All Photo Stories