Zdenk Kluka - stock.adobe.com
Oracle Q2 2017-18 results see cloud revenue grow to $1.5bn
Oracle's second-quarter 2017-18 results show an increase in cloud revenue of 44%, and overall growth of 4% to $9.6bn. Executives are bullish against competition, buoyed by artificial intelligence makeover of database
Oracle's second-quarter results for 2017-18 show a 44% growth in cloud revenue to $1.5bn, compared with the same period last year. Overall revenue also increased, from $9bn to $9.6bn.
However, the bulk of the cloud revenue – $1.1bn – came from software as a service (SaaS). The 2016 acquisition of SME-focused cloud applications company NetSuite will be continuing to boost the SaaS number for Oracle.
Platform-as-a-service (PaaS) and infrastructure-as-a-service (IaaS) revenues were $396m combined.
At its 2017 and 2016 Open World conferences in San Francisco, the supplier's chief technology officer and founder, Larry Ellison, promoted Oracle's IaaS offering as a fiercely competitive rival to market leader Amazon Web Services (AWS), which has been fighting back against his onslaught.
Generally accepted accounting principles operating profit for Oracle's second quarter was declared up 1% to $3.1bn, a margin of 32%.
In a statement, Oracle co-CEO Safra Catz said: "Our success in the quarter was based on the increasing scale and the gathering momentum in our cloud business. I expect the business to continue to grow and strengthen over the coming quarters."
Read more about recent enterprise IT financial results
Fellow co-CEO Mark Hurd added: "Our Fusion ERP [enterprise resource planning] and Fusion HCM [human capital management] SaaS applications suite revenues grew 65% in the quarter. We are now the clear market leader in enterprise back-office SaaS applications, with over 5,000 Fusion customers. And we expect to extend our lead by selling around $2bn in new enterprise SaaS application cloud subscriptions over the coming four quarters. That's more new SaaS sales than any of our competitors."
Self-driving database
Meanwhile, Ellison highlighted the addition of machine learning to the core Oracle database, as outlined at this year's Open World.
"Oracle will soon deliver the world's first autonomous "self-driving" database," he said. "The new artificially intelligent Oracle database is fully automated and requires no human labour for administration. If a security vulnerability is detected, the database immediately patches itself while running. No other system can do anything like this. Best of all, we guarantee the price of running the Oracle Autonomous Database in the Oracle Cloud is less than half the cost of running a database in the Amazon cloud."
"We're so confident of our cost advantages over Amazon that we will guarantee moving to the Oracle cloud will cut Amazon customers' database bills in half"

Larry Ellison, Oracle
In the earnings call, a transcript of which is available from the Seeking Alpha website, Hurd gave a roster of new customer wins. For ERP cloud, these include AXA, Banco Santander and News Corp. For HCM, customer wins include Abu Dhabi National Oil Company, Deutsche Post and Shell. And for infrastructure and platform as a service, he cited the University of Durham, Orange, and Zürich Insurance Group.
In the call, Ellison played up the competition with Amazon. "If you take a workload from Amazon running on Redshift and move it over to Oracle, your Amazon bill will drop by 80%. It will cost you five times more to run Redshift than to run the Oracle Autonomous [Database]. And this is not total cost of ownership, this is not labour, this is your Amazon bill – what you pay Amazon to do a piece of work. You can run on the Oracle cloud and pay $0.20 on the dollar by moving from Amazon to Oracle.
"We're so confident of our cost advantages over Amazon that Oracle will provide our customers with written service level agreements that guarantee moving to the Oracle cloud will cut Amazon customers' database bills in half or substantially more than half."
Hurd, also in pugnacious mood, took a pop at SAP, Amazon and Salesforce: "Let me tell you someone else who's not moving off of Oracle: SAP – they had that database called Hana they'd like to move to. SuccessFactors – they've been trying to move off of Oracle for five or six years. SAP is running on Oracle. Ariba runs on Oracle. All SAP large customers run on Oracle. Amazon continues to buy Oracle technology to run their business. Salesforce runs entirely on Oracle."
Content Continues Below

Download this free guide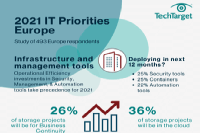 IT Priority Topics 2021 Infographic
This year, a survey was conducted quizzing nearly 500 European IT sector professionals to gather what topics they identified as being imperative for 2021. In this infographic see whether remote working is here to stay, if there will be shifts in information management trends and what infrastructure tools will be deployed by most in 2021. Download this PDF infographic to find out what the results showed.
Read more on Artificial intelligence, automation and robotics