jules - Fotolia
SDN an essential component of future public sector networks
Public sector organisations need to adopt software-defined networking to deliver more agile and resilient networks that bring fit-for-purposes services to users and citizens
Software-defined networking (SDN) will be a vital element of future public sector networking procurements as public sector organisations begin to move away from centrally-proscribed networking models.
This was the key message at a Public Sector Connect-hosted conference on the future of public sector networks in the UK, at which the Government Digital Service (GDS) was conspicuous by its absence. Reflecting on this, Phil Gibson, chair of public sector network suppliers' association Innopsis, said public sector networking policy would no longer be handed down "by edict from GDS".
Earlier this year, GDS heralded the beginning of the end for the Public Services Network (PSN) model when former deputy CTO James Stewart – now a startup mentor and independent consultant – wrote: "For the vast majority of the work that the public sector does, the internet is OK."
Fundamentally, SDN works by decoupling network control software from switching hardware and running it as virtual instances on industry standard server hardware. This enables administrators and engineers to build a more flexible, agile and responsive network that is considered ideal for the heavy workloads modern enterprises have to deal with. This well-established approach to network management is now putting down roots in the public sector as well.
"Success is underpinned by the best possible secure network, and that could include SDN, but also cloud, software-defined infrastructure, software-defined storage and a whole host of other components making up just one layer of the ecosystem," said Jack Richards, public sector senior solutions architect at Exponential-e.
"Software definition is a term that, of late, has come to mean agile and cheap. Done right, software-defined is the mechanism by which we can consumerise our desired outcomes – but this can only be done if we look beyond the technology."
The move towards new models of networking is typified by the Department for Work and Pensions (DWP), which despite massive problems with its flagship Universal Credit system and huge IT budget overruns, is already forging ahead with a major network revitalisation – partly to support the Universal Credit roll-out.
"We previously had big tower-based contracts through PSN," said DWP Digital head of infrastructure services, John Keegan. "We are now moving more towards commodity cloud-based services, where we can."
Read more about public sector networking
The DWP is currently rolling out a Cisco Meraki-based network across 720 Job Centres to support staff and jobseekers alike, said Keegan. At the same time, it has upped its investment in datacentre networking, opening two new rooms through the Crown Commercial Framework agreement with Ark Datacentres, and connected these with a BT-supplied high-speed optical fibre network.
It has also built a secure cloud exchange gateway at its datacentres, peered through one of the UK's main point-of-presence (PoP) providers to get direct connections into Amazon Web Services (AWS), with connections into Azure and the public internet set to follow soon.
With a widely dispersed workforce carrying out complex and varied tasks, the DWP's plans stand as a good example of the sort of network refresh that can benefit from SDN, but there may also be benefits for smaller public sector organisations, said Jessica Figueras, chief analyst at GlobalData.
"The trends driving that move away from the PSN philosophy are well in train," she said. "Fundamentally, it is all about cloud and increasing adoption of public cloud."
"The old world, with a datacentre and a bunch of branch offices connected, is becoming less and less the norm, and for public sector organisations smaller than the DWP, this is particularly pertinent. Smaller organisations can get away with doing more on the internet."
Content Continues Below

Download this free guide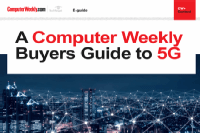 A Computer Weekly Buyers Guide to 5G
Despite the fears of many that rollouts of the next generation infrastructure would be delayed or just not be possible due mainly to the adverse economic conditions caused by Covid-19, the prospects are actually quite bright for the 5G industry in 2021. Download this EGuide to find out what enterprises need to know about 5G.