Rawpixel.com - Fotolia
Benelux organisations must ensure IT staff are content or else risk exodus
Organisations in the Benelux region could face IT staff leaving in large numbers if they don't remain attractive to employees
Just over half of IT professionals in the Benelux region are open to new job opportunities but are not actively seeking them, according to Computer Weekly's annual salary survey research.
Meanwhile, around 10% of IT professionals are actively looking for new jobs, 30% said they are happy in their current role and intend to stay in the near future, and nearly 7% want a new role in the same company.
Employers in the region need to ensure employees are content or risk a large proportion looking for new opportunities, with pay rates and career enhancing training and experience just some of the ways to keep staff content in the IT sector.
Regarding salary, 39% of respondents said they received a pay rise last year, while 4% had their salary reduced and 30% said there was no change. Respondents were less confident of a pay rise next year, with 35% expecting an increase, 4.6% expecting a decrease and 44% expecting no change.
Two-thirds (66%) of Benelux IT professionals said they received formal training from their employer, which was provided when necessary for 80% and regularly for 20%.
More than half (53%) believe they get enough training from their employer, while 39% said they don't get enough to help their career progress.
Like all regions of the world, there is work to be done to increase the proportion of women in the IT workforce in the Benelux region. Less than 6% of respondents said women make up 40% or more of their IT team.
Meanwhile, 14% said there were no women in their IT teams. This is compared with Nordic organisations, where 12% had an IT team that was at least 40% female, while 16% had no women in their IT. Under 30% of Middle East survey respondents said there were no women in their IT department.

Download this free guide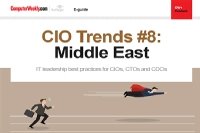 CIO Trends #8: Middle East
Join us as we take a look at Bahrain and its efforts to make itself the go to fintech hub of the Middle East, the rapid progress being made in Dubai as the government strives to make the city smart and how the region is reacting to the implementation of 5G.
Read more on Information technology (IT) in Benelux