SAP marks 20 years in Ireland with digital boardroom launch
SAP has marked two decades in Ireland. CEO Bill McDermott hailed the millennial character of the country's IT workforce, and argued for the strategic utility of SAP's 'digital boardroom' concept
SAP has marked two decades in Ireland with the launch of its "digital boardroom" in the island's IT market.
It also announced the creation of 150 new jobs over the next 18 months, adding to its 1,880 workforce in Dublin and Galway. CEO Bill McDermott acclaimed the millennial character of the firm's Irish workforce.
He was joined yesterday (8 May 2017) by Mary Mitchell O'Connor, minister at the Irish Department for Jobs, Enterprise and Innovation, for a celebratory event at the Aviva stadium, home to the Irish Republic's rugby union and football teams.
McDermott said he was proud of Ireland, the country of the American's ancestors, for its "friendliness towards business, and what it has done in digital, whether fintech [financial technology] or biotech", and of its young people. 70% of SAP Ireland's workers "are millennial people", he said.
He also elaborated on what SAP is dubbing "mode 1" and "mode 2" digital transformation for enterprises – respectively, keeping the lights on digital change activities, and more innovative programmes that make use of the internet of things, artificial intelligence and machine learning. The idea of bi-modal IT has been much promulgated in recent years by Gartner.
"Mode 2 is next generation," said McDermott. "The digital boardroom, with analytics on what is happening in real time across a range of variables in your organisation, is not trivial or commonly done. If you are running a country, you want a digital cabinet, with all members of that cabinet aligned around constituent goals. You can take publicly available data and put in on Hana [SAP's in-memory, columnar database] and in 24 hours you can run a country on its strategic imperatives. Speed is much more essential now."
Manage big data differently
He confirmed that there are countries putting SAP's digital boardoom concept – which uses the company's Business Objects business intelligence software, running against Hana, to serve up real-time information dashboards – to work.
Read more about enterprise IT firms in Ireland
"The disk-based database of the 20th century is dead," McDermott added. "An in-memory platform, such as Hana, gives you an opportunity to manage big data differently. Data from three to ten years ago, or more, never gets looked at by executives.
"Put it in a cold storage Hadoop data lake, say, and serve your hot data in Hana – data from last month, quarter, year. As a CEO, I need a purview of what is going on in my company right now, in real time, in a digital boardroom.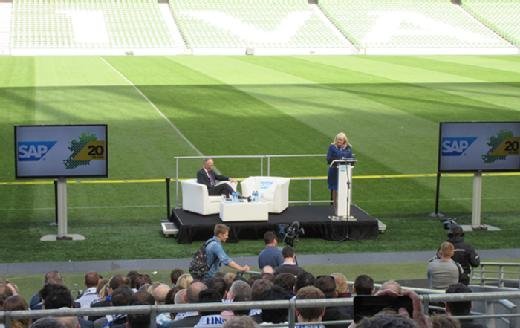 "That saves 90% on the cost of data management. Take a government of a sizeable country, with an IT budget of €100bn. Half of that is in data management. Historic data does not need to be in main memory. So [with this approach], constituents get transparency and you free up budget to do good.
"Why is this not happening? There is a human reason. The CEO is not embedded in the IT strategy. He wants to do the interesting mode 2 things, and is focused more on the head of strategy and finance. We've got to get these departments [IT and the business] to talk to each other. That's why the digital boardroom is the unifying factor."
SAP took the event as an opportunity to launch the SAP digital boardroom approach for the first time in Ireland.
Ireland a tech destination
Irish taoiseach Enda Kenny said in a statement: "I welcome SAP's ongoing commitment to Ireland and I am delighted it has chosen Ireland as the location for a further 150 jobs. This announcement further highlights Ireland's suitability as a destination for the tech sector."
Speaking at the event, minister Mary Mitchell O' Connor, said: "I'm hugely impressed with the achievements of SAP since it located in Ireland 20 years ago. I warmly welcome the creation of an additional 150 jobs in Dublin and Galway, which brings its total employment here to over 2,000 staff, a staggering achievement indeed.
"SAP's expansion builds on its multi-skilled business activity and is vindication of the competitive advantage we can offer high-technology companies. We have made strenuous efforts to ensure that the skills necessary for ICT companies like SAP are available here, and this decision vindicates that policy."
Liam Ryan, managing director of SAP Labs Ireland, added: "Twenty years is an exceptional milestone in the tech industry, but SAP truly is an exceptional company. SAP Labs Ireland is part of a 19-strong global network of SAP Labs and is at the centre of our R&D investment."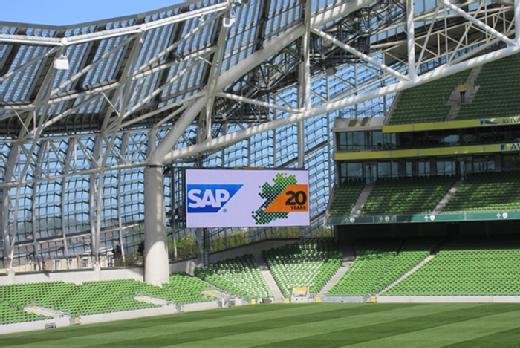 Read more on Artificial intelligence, automation and robotics