Olivier Le Moal - Fotolia
Expanding business intelligence firm uses technology to bring in recruits
Chester-based GBG has saved £300,000 in recruitment costs and seen its 'Glassdoor' ratings jump from 1.9 to 4.2 out of 5
How can an expanding company use technology to recruit and retain talented staff when faced with competition from larger, better-resourced, better-known organisations?

Download this free guide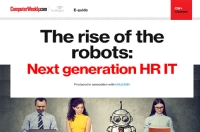 Robots are coming for your jobs
It's happening, the robots are finally taking over. Will the rise of the robots mark the end of humanity? Download this e-guide to discover how big companies are turning to AI and machine learning to make their human resources a little less human.
That was the question that faced GBG, a Chester-based business intelligence services company, when it found its workforce increasing by nearly 60% within 18 months.
The company, which provides due diligence and background checks on companies and people, competes with larger organisations, such as Experian and Equifax.
It has made a rapid transition from being a local employer in the northwest of England to a multinational organisation with 700 employees in 15 countries, says James Miller, GBG's chief people officer.
The company expects its staff numbers to grow by a further 43% this year and has embarked on more than 20 projects to make its existing employees' working life easier, and to make it easier to recruit new people.
Over the past 18 months, GBG has built careers portals, moved to social media to advertise vacancies, and provided employees with information about careers at the company that they can share with prospective recruits.
These initiatives are helping the company to cut the cost of recruitment and fill positions when there is strong competition, as it seeks to quadruple its workforce over the next five years.
"We are trying to recruit core developers and business developers, and they are in demand everywhere you look," says Miller. "A third of our team members are in technology or product roles, and there is a war for talent."
"We are trying to recruit core developers and business developers, and they are in demand everywhere you look"

James Miller, GBG
Miller began a review of GBG's HR technology strategy after being brought into the company in July 2015 with the aim of raising the organisation's profile as a brand for prospective recruits.
That meant canvassing as many of its current 450 employees – known within GBG as team members – as possible.
"I went out and talked to about a third of the team, in one-to-one sessions and focus groups," says Miller. "I asked what their experience at work was like, what was easy, what was difficult."
He turned his findings into a "people plan", and won backing from the board in late 2015 for a series of technology investments.
The first step was to ensure that the data on GBG's employees, held in its core HR system, Select HR – supplied by the Access Group – was accurate and up to date, so it could be used as reference data for other HR technology.
Cloud-based training
The first major project was the roll-out of cloud-based training technology to provide courses across the company, particularly in parts of the world where it is difficult to provide classroom training.
Miller and his team assessed four learning management systems before choosing a cloud-based offering from technology supplier Cornerstone.
The system, dubbed "be/developed", allows GBG to create its own learning materials without having to buy them in from a supplier.
The system also enables the company to cascade its business objectives down to each employee's performance objectives, says Miller.
"We are building our content from scratch. Every time we develop a new product, training for it will be hosted in be/developed," he says.
Read more about HR and learning technology
Staff can use the system to access training in the form of videos, webinars, slideshows or PDF documents from mobile phones, tablets or desktop PCs.
Some of the company's core technical specialists are choosing to brush up on their technical skills from home in the evenings or at weekends.
After six months, 98% of GBG's employees have used the online training system, totalling 4,000 hours of training.
Choosing benefits online
GBG followed that with a project to enable employees to choose the benefits they wanted from an online portal.
Until then, staff had had to fill in separate paper forms for pensions, medical insurance and other benefits, adding a layer of bureaucracy.
GBG evaluated three benefits technology providers before choosing Thomsons Online Benefits' Darwin system.
"I have worked with other companies that have chosen Thomsons," says Miller. "I knew what the Darwin technology could do. I knew it would work across a number of markets.
"Thomsons is not the cheapest, but it provides a great technology, has a good development roadmap, and we can feed into that."
GDB first deployed Darwin in its largest region, the UK, which has a workforce of 500.
Miller spoke with team members and, on their advice, introduced a cycle-to-work scheme.
Another employee benefit is the ability to buy extra holiday. This perk was already available, but employees were unaware of it and it had proved hard to administer without the online benefits system.
GBG's online benefits
Buy extra holidays
Childcare vouchers
Medical plan
Pension plan
Income protection
Life cover
The portal, which went live in September 2016, means that, in effect, employees talk directly to GBG about their benefits, rather than third-party suppliers, such as pension providers, says Miller.
"We have managed to improve the take-up of benefits that already existed, that people had not heard of, or did not know how to sign up for," he says. "Some 78% of team members have changed something in their benefits as a result of the system. They are making a personal decision – 'I value this over that'."
The company plans to roll out the benefits portal country by country, starting with its biggest operations in Australia, Turkey and Malaysia.
Miller decided to use on-line benefits as a springboard to introduce employees to the company's plans for other digital workplace technology.
"When we started managing benefits online, people saw the direction we were going in," he says. "That was the point when we started using the launch of one system to promote other systems we would be launching in the future."
Be/Connected
In its third project, Be/Connected, GBG deployed video-conferencing technology to enable staff across the company to communicate with each other.
The firm is using a mix of Polycom Video Conferencing technology and, in smaller locations, Skype for Business.
"Just because your team is in Manchester and Nottingham does not mean you can't join in the scrum," says Miller.
The technology will help the company's tech team in Kuala Lumpur, Malaysia, which is expected to grow from 25 to 85 people, work with virtual teams in the UK and California.
Recruitment savings
The programme has led to GBG saving £300,000 in recruitment costs in six months by sharing vacancies internally.
The company, which plans to recruit a further 300 staff next year, is encouraging its employees to refer people they know to fill new posts, and to share details of vacancies on social media.
"We know referral schemes work and we can't rely on traditional recruitment," says Miller. "Almost 90% of team members say they would refer a friend to work at GBG."
GBG has also reported a rise in its score on Glassdoor, a website that offers reviews of companies for people applying for jobs, from 1.9 to 4.2 out of 5, over the past 18 months.
"Glassdoor is becoming more and more a go-to place for reviewing not only potential employers, but suppliers," says Miller. "We have found that clients have referenced our Glassdoor score."
Miller believes that the benefits portal, and other HR technology investments, will ensure employees don't leave the company for the wrong reasons.
"We know how much every percent of attrition costs us," he says. "It is wasted money that we could be investing in something else, and that is not taking into account the time wasted in getting new recruits up to scratch."
Learning lessons
Miller says there are challenges in rolling out multiple HR systems at once, because they can often perform overlapping functions.
"You have to make clear choices about what you want a system to do and what not to do," says Miller.
The company has also had to be really clear about what information it makes available on the intranet. "We don't want people to get conflicting information in two different places," he adds.
---
James Miller was inverviewed at HR Tech World in London on 21-22 March 2017