kalafoto - Fotolia
Cargotec saves €2m by moving HR systems to the cloud
Cargo handling equipment manufacturer Cargotech reduces the cost of managing its 11,000 employees by moving HR systems to the cloud
Cargotec, a multinational cargo handling company, claims to have saved over €2m since rolling out a cloud HR service to serve its 11,000 employees.
The Helsinki-based company, which makes high-tech cargo handling equipment used in shipping, heavy industry and road transport, employs people in more than 100 countries.
The €3.7bn company is replacing hundreds of human resources (HR) systems, spreadsheets and paper filing systems with a single, cloud-based HR service that will give managers their first clear picture of skills and salaries across the organisation.
The project has cut the time managers spend on performance management and appraisals by half, and has boosted the efficiency of the company's HR operations by 10%, says Heini Kämi, director, for human resources, roadmaps, processes and tools at Cargotec.
Head in the clouds
Cargotec took the decision to move its HR processes to the cloud around three years ago, after it appointed a new CEO, Mika Vehviläinen, who deemed it a business priority.
The project, christened Zone, was Cargotec's first foray into cloud services. Managers were keen to use it as a benchmark for future cloud projects, so that meant delivering results quickly and making a real business impact, says Kämi.
"In his first IT meeting, the CEO says it was the first time he had worked for a company that did not have a global HR system – and he wanted one. So we had a very easy business case," Kämi tells Computer Weekly.
The company evaluated a number of suppliers, including Workday, before choosing two systems from SAP SuccessFactors; Talent Management and Employee Central, a core HR system.
The decision made sense because Cargotec was already a big user of SAP technology and the company felt confident it could integrate SuccessFactors and Employee Central cloud services into its existing IT systems, says Kämi.
Finding the right implementation partner
Kämi, who joined Cargotec to jointly manage the Zone project, took several months to audit the company's existing HR systems, before starting a three-month search for an implementation partner in January 2014.
A huge number of consulting firms responded to the request for proposals, says Kämi, but the majority of them lacked experience in implementing SuccessFactors. "I did not want to be the guinea pig," she says.
Cargotec chose a Danish company called Effective People – now owned by the US firm GP Strategies – which had a proven track record in implementing the technology.
Systems integrator TCS took responsibility for integrating SuccessFactors with Cargotec's existing dual SAP systems.
Cargotec appointed a team of three people to manage the project – an IT project manager, a project manager from Effective People, and Kämi representing the HR department.
One complicating factor was that Cargotec operates three different manufacturing companies – MacGregor, Kalmar and Hiab – each of which has its own sites and HR staff.
Moving into the Zone
The project team worked with 92 human resources specialists across the company to gather and collate HR data across different parts of the organisation, load it onto Excel spreadsheets and post those to a shared folder on Microsoft SharePoint.
"Even to get the basic data we'd defined, we had to design a minimum of 20 information fields for every employee. To get every one of the 92 to understand what we wanted took some time," says Kämi.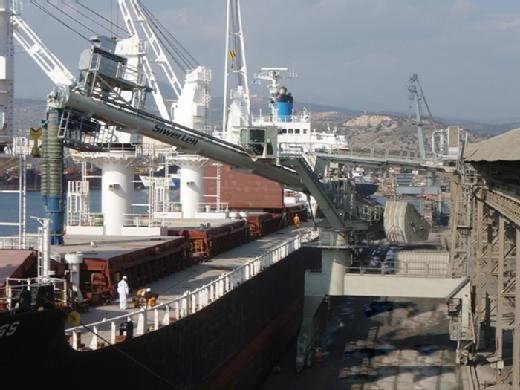 The team uploaded the first batch of employee data in July 2014. The second and final round of data followed two months before the project went live.
"That went pretty well, but what took us by surprise was how long it took to upload the data to the system. That took a long time," says Kämi. Although staff ended up working weekends, there was enough slack in the timetable to meet the go-live date, she adds.
Integrating SuccessFactors into the company's existing payroll systems, proved another technical challenge. The IT team realised that it could not use Cargotec's standard integration technology, Boomi, a cloud-based integration platform from Dell, and instead built its own interfaces.
Customisation – no thank you
Cargotec made a strategic decision to use SuccessFactors' standard HR template, and to only made adjustments if they were absolutely necessary for legal reasons.
"At the beginning of the project, there were a lot of questions coming in from different countries about when we were going to ask about their legal requirements. We slowly told them the truth – we are not going to ask you," she says.
The project group set up a series of workshops, and appointed business champions to encourage employees and managers to buy in to the project. "We did [get some resistance] at the beginning, but I guess they somehow gave up. We were in a lucky situation. I said 'the CEO wants it, we have to do it'," says Kämi.
Once the system was up and running, Cargotec customised the software in the US to meet legal requirements, and in France to restrict the visibility of personal data.
It also held negotiations with its works councils in Germany – where there are strict data protection laws – to agree procedures that allow only named people to access HR data.
Savings have already paid for the technology
The project, which went live across 51 countries on 1 December 2014, has given senior managers an overview of the company's structure, workforce and salary costs, not previously available.
They have been able to combine data from finance systems with HR data to make fact-based decisions, says Kämi. During the company's annual salary review in 2015, for example, managers were able to use Zone to compare the salaries and performance of staff across the organisation.
"Once we could get that transparency, we could make some decisions – to cut budgets – based on the information [now] available," says Kämi.
The savings that followed have already paid for the project, she says.
Decommissioning old IT systems will bring more savings
Further savings will come as Cargotec decommissions its older HR and payroll systems. Finland became the first country to move HR entirely to the cloud. Sweden, the Netherlands and other countries will follow.
"That is the road we need to go down – try to kill old legacies. But it will take time," says Kämi.
David Wilson, CEO of HR analyst Fosway Group, says there is a strong business case for moving HR services to the cloud, with the latest research showing that 78% of organisations are either moving or planning to do so.
"Simplifying a complex HR system landscape, while at the same time delivering better user engagement and greater flexibility and innovation, is also a pretty attractive proposition for most companies. But the reality of replacing multiple legacy platforms, many of which are ERP [enterprise resource planning] on-premise solutions, is not straightforward," he says, commenting on Cargotec's project.
Teething problems
Cargotec experienced some unexpected problems during the project, Kämi reveals.
For example, when the team added Cargotec's standard performance management process to Zone, it became clear that many HR teams had developed their own approaches to performance management.
"We had lots of questions from the HR managers, asking, 'why is it like that?'. We told them we just changed it from paper to SucessFactors, it was always like this. Then it became evident that not everyone followed the same process," says Kämi.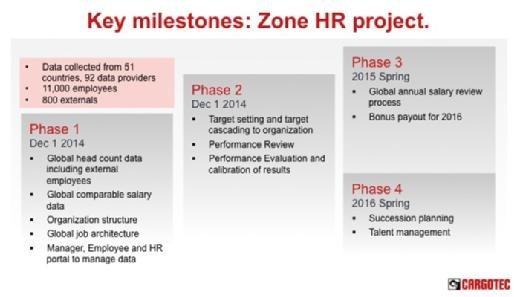 Some of the company's 140 HR staff also found it difficult to adjust to the idea that managers could update their employees' data on Zone, without involving HR.
Employees liked the new systems, says Kämi, but one apparently minor problem led to a large number of complaints. Some were particularly upset that once they had updated their photographs on Zone, their photograph on their Outlook email software didn't update. "Once we got that fixed, they were happy," she says.
Cargotec's plans for HR technology
So far, Cargotec has implemented performance appraisal and goals, and compensation modules on Employee Central.
And it is in the process of moving staff appraisals and annual targets, on the cloud system, replacing a combination of paper forms and spreadsheets. "The key is now to get targets in place for everyone, and have the manager approve them in time. Just to get the basics right," says Kämi.
The company plans to go live with staff development and succession planning technology in April 2016. "We need to help people develop further, so that we can build talent pools and identify who knows what and who can be the successor of who," says Kämi.
Taking time to regroup
But other projects will have to wait, as the HR team and managers take time to learn the new system and allow it to bed in.
"There are lots of wishes. If you ask any of our local HR staff in any country, they would [ask for] time management and recruitment. The decision was made that this year we won't have any new projects as such," says Kämi.
Future projects might include using analytics and reporting tools for workforce planning. There are also plans to introduce kiosks to allow Cargotec's factory workers, who don't have access to computer systems, to keep their personal data up to date. Mobile phone access to Zone for engineers and transport workers, who are often on the move, is also under consideration.
Lessons learned
The project came in on time, but Kämi says if she were doing the work again, she would take a harder line against customisation.
The project team agreed to customise SuccessFactors for the finance team. "Now they are constantly having data quality issues. If I could do that again I would say no to them," she says.
Read more about HR technology
Kämi would advise other companies planning to roll out HR systems against asking users what they want in advance, because that leads to an endless series of requests, which will inevitably delay the project. "I have seen that in other companies," she says.
Commenting on the project, Fosway Group's Wilson points out that companies often forget the importance of choosing a service partner to provide on-the-ground support after the project.

"We see too much focus on the initial platform selection and setup, without enough planning around the actual execution and then ongoing service provision. Hearing stories such as this from Cargotec is helpful to other organisations in progressing beyond a decision to move HR to the cloud, to making that move a reality," he says.
---
Heini Kämi was a speaker at HR Tech World in London.