agsandrew - Fotolia
NHS underinvests in data capabilities, says Public Health England chief knowledge officer
The NHS needs to invest in capacity and capability to use data in making healthcare decisions, says Public Health England (PHE) chief knowledge officer John Newton
Public Health England's (PHE) chief knowledge officer, John Newton, called for better use of data in the NHS to drive decision-making.
Speaking at the Healthcare Efficiency Through Technology Expo on 30 September 2015, Newton said the NHS is "underinvesting in capability and capacity for the use of data", compared with the amount it generates and collects.

Download this free guide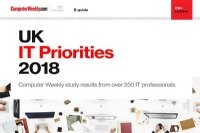 2018 UK IT Priorities survey results
IT organisations in the UK and across Europe are starting to accelerate the move to the cloud. Read more about the key areas in which senior IT managers are planning to invest in over the next 12 months.
The NHS collects more data than ever before, and as the amount of data increases, the NHS needs to use it to improve outcomes, said Newton.
"It's more difficult to use it than it should be. It could be much easier for us to use the data we need to improve healthcare for patients," he said.
In September 2015, the National Audit Office (NAO) released a report showing that the NHS spent nearly £1bn on giving cancer patients drugs – which, incidentally, had been rejected by the medicines regulator – but failed to collect any data on the outcomes.
Although not commenting on the specific report, Netwon said senior NHS managers "have been used to managing without data and relevant information".
The controversial Care.data programme, which aims to extract anonymous patient data from GPs to a central database, was set up to help commissioners make decisions to drive improvements in patient care. However, due to lack of communication around what would happen with the data, among other issues, the programme has been a disaster so far.
The programme has been criticised for following an opt-out model, rather than letting people opt in. NHS England's director of patients and information Tim Kelsey defended the opt-out model, saying it was needed to ensure enough data was collected.
Newton said validity is crucial to establish if the data means "what you think it means", and said there's only a certain level of opt-out that can be tolerated and still find the data meaningful.
Newton commented on the ease of taking widely available data and presenting it "in a way that was 'nice' that had enormous impact".
It needs to be presented to people in a simple and engaging way. If the data is not something people understand and trust, you might as well not collect and analyse it

John Newton, Public Health England
Using examples such as PHE's Longer Lives project, a website showing the variation in early mortality rates, he said it could easily be done. The website, which was launched in 2013, uses simple data, presented using a traffic light system to rank areas based on how well they are tackling avoidable deaths.
Newton said part of the problem in the NHS lies in the way it analyses and presents the data.
"It needs to be presented to people in a simple and engaging way. If the data is not something people understand and trust, you might as well not collect and analyse it," he said.
Newton also stressed the importance of involving clinicians in the analysis of clinical data to make sure the interpretation of the data is correct.
He also called for the NHS to adopt technologies such as machine learning and surveillance systems, as well as implementing more application programming interfaces (APIs) to analyse data quicker. Newton added that the surveillance approach is underestimated in the NHS.
"We need healthcare systems that are data driven and invest in capacity and capability," he said. ...............................................................................
Read more about the NHS's use of data
Read more on Healthcare and NHS IT