adam121 - Fotolia
IT must master coaching for success in digitisation
CIOs can support their company's digital strategy, but it should be driven from the top down by the CEO
While organisations are looking at how to become more digital, many lack the leadership and management required, a report has revealed.
The Driving digital transformation: New skills for leaders; New role for the CIO report of 436 business leaders, conducted by Harvard Business Review Analytic Services for Red Hat, revealed that only 19% of organisations excelled at both digital leadership and management.
The report considered 34% as laggards, lacking in both digital leadership and management, while 47% were considered followers with partial digital leadership and management skills.
Overall, 34% of respondents admitted the technical skills of their organisations were insufficient in terms of digital expertise, while 40% said they were moderately confident.
The report's authors urged CIOs to take a key role and recommended embedding IT staff in the lines of business to coach staff during the course of work, rather than arranging formal training sessions.
"Leading CIOs help their business colleagues understand which digital knowledge and skills need to reside in their function, and which they can leave to IT," the report stated.
"They and their teams must communicate in language that makes sense from the perspective of business activities and outcomes, and they should partner closely with key business leaders – often the chief marketing officer – to bring together the best from both domains."
One of the main barriers CIO will face is that many IT organisations are not well-equipped to fill a teaching/coaching role, according to the report. "They need to improve the way they communicate, as well as carve out the time and create the forums for digital learning," it said.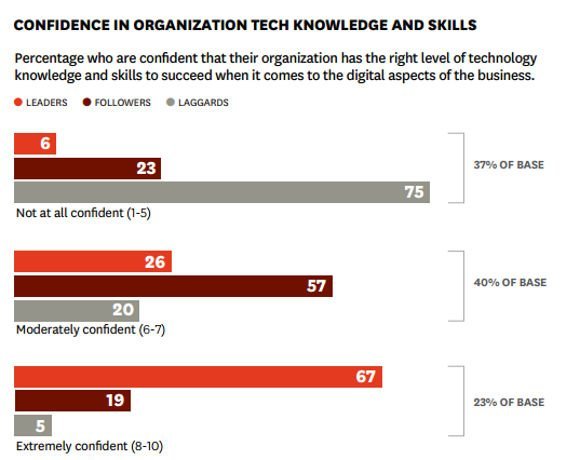 The report's authors recommended that CEOs should personally lead the digital business charge from a vision and strategy perspective, going on the road and sharing the message with leaders in all markets.
Red Hat CIO Lee Congdon said: "It's clear that the role of the CIO and IT leaders is evolving. The report demonstrates how imperative open collaboration and shared accountability are for the entire enterprise.
"The results are a call to arms for CIOs to get ahead of the industry shift and drastically increase transparency between IT and other business leaders now, before their competitors leave them behind," he added.