CIO interview: Sarah Flannigan leads change at the National Trust
National Trust CIO's IT strategy is a £40m transformation that represents the biggest change project in the charity's history
National Trust CIO Sarah Flannigan likes to do things differently. Unlike many of her peers, Flannigan has not spent years coding, developing and climbing the IT leadership ladder. Rather than honing her craft in the datacentre, Flannigan learned to lead through her experiences in other lines of business.
Between 2007 and 2009, she worked as sales and marketing director for conservatory maker David Salisbury, having previously been employed as the firm's operations director. Flannigan decided to take a break from work in 2009 to spend time at home after the birth of her second son. On her return to work in April 2010, she was parachuted into the National Trust and assumed the role of CIO, her first IT leadership position.
Flannigan was tasked with writing the organisation's IT strategy. She set about creating change by concentrating on four core priorities: people, customer relationship management, infrastructure and management information. Flannigan says success across these areas meant the trust was in a position to start making crucial business decisions about how it could use technology to reduce bureaucracy and increase revenues.
"Having built the foundations, I'm now getting into the fun stuff," says Flannigan, who relishes her role as an executive at one of the UK's best-known charities. Flannigan says she knew from experience that the challenges you find at an organisation, regardless of position or business, are always the same – people, expertise, culture and processes. Clear leadership skills, she says, are crucial for any executive looking to create change in a specific line-of-business
"Success is about ruthless prioritisation," she says. "When I joined the National Trust, there was so much in IT that wasn't working correctly I had to tolerate a way of working that wasn't right. That's agony for someone like me who wants everything sorted straight away. What the first strategy allowed me to do was to focus on the areas that really needed to get fixed. My second strategy is about concentrating on the areas that deliver benefits to the business."
Read more interviews with charity CIOs
Flannigan's new three-year IT strategy, named the Systems Simplification Programme (SSP), is a £40m transformation initiative. She says SSP represents the biggest change project in the National Trust's history, and requires a joined-up approach to IT and business management. "This is my baby," says Flannigan, who presented her ideas for change in a whitepaper to the organisation's director general, Helen Ghosh.
"I persuaded the board to sign off the programme, and each of the four elements is sponsored by an executive. I've also appointed programme directors for the strands and they're working to deliver the benefits. I have a capable team and it's a joy to work with them. In a traditional organisation, which has been stung in the past by technology projects, the level of confidence across the trust is very high."
The SSP, which began in February 2013, aims to deliver £90m of business benefits across four key areas: tills, finance, loyalty and digital. "Working across all of those four areas simultaneously requires a huge amount of integration and change management," says Flannigan.
"When you stop and think about the amount of work required, it sounds terrifying. The SSP is a huge change programme and it affects how people work across the trust. But we've been honest and upfront with staff and it's going really well because we have some great people. And the programme will bring consistency in terms of standardised ways of working."
The four elements of the transformation programme
The first initiative tackles the National Trust's 3,000 cash registers. The tills are not linked or networked. Collecting information about the way the trust serves its 20 million customers is a laborious, manual process.
"What we're looking for is radical change," says Flannigan, who sees a joined-up till system as a way of allowing the trust to analyse information quickly, control stock management and create targeted campaigns for customers. Flannigan and her team have completed the system design and are testing the tills in preparation for a year-long roll-out programme that will begin in April 2015.
The second strand of Flannigan's SSP covers finance. Similar to the situation with cash registers, the trust's ability to make sense of the information it collects is encumbered by its reliance on a 15-year-old legacy financial system. Flannigan says a new finance system will replace the 20-or-so manual interfaces currently used by staff. "We know 86% of our budget holders use spreadsheets to manage properties," she says.
We're trying to do everything at once and that's audacious. However, the whole point of this approach is integration – and that's the genius of the transformation strategy

Sarah Flannigan, National Trust
"We also have a disparate approach to procurement, where we use lots of different suppliers. A new finance system will produce benefits for the business and reduce the time it takes to create reports." The trust selected Unit 4's Agresso software after a procurement exercise. Flannigan and her team are honing the design of the finance system, which will go live from September 2015.
In the third area of the SSP – supporter loyalty and marketing analytics – Flannigan is attempting to create a consolidated view of members and visitors. She says the information the organisation collects on its supporters is held in a variety of different systems. "We have no way of targeting and cross-selling," she says. "We want to understand the trends and engage with our supporters at a personal level."
The first part of this loyalty and marketing programme involves the creation of a data warehouse that went live in summer 2014 and now holds 13 million supporter records. Part two involves making use of marketing software from Tableau, which sits on top of the warehouse system and provides rich information about visitor demographics.
Flannigan gives an example of a National Trust property that runs a barbecue event that traditionally attracts 500 visitors. By using Tableau, the charity was able to see where visitors came from and realised it could target more locals through a bus stop advertising campaign. The marketing initiative led to a jump in interest, and visitor numbers eventually totalled 1,500.
Flannigan has also purchased Adobe Campaign, a cross-channel marketing tool. The trust's use of the technology is at proof-of-concept stage. The marketing team is running pilot schemes, but Flannigan expects the tool to be used on a live basis from March 2015. "The approach will allow us to create a step change in the way we engage with our supporters and increase revenue for the trust," she says.
The final element of Flannigan's SSP focuses on digital platforms, such as the trust's website and smart mobile devices. "Basically, we want the visitor experience to be as rich online as it is offline," she says. Flannigan says most people will visit the National Trust website before visiting a property, many of whom will go on to become members. However, an increasing number of visitors – as many as 50%, she estimates – use mobile devices to view trust information online.
"And they wouldn't have a great experience," says Flannigan, adding that mobile forms a key element of her transformation strategy. "As an organisation, we must adapt to the fact that a high proportion of our customers are using mobile devices." The aim, she says, will be to use apps to increase personalisation and to tailor benefits, such as an invitation for members to a particular event.
Read interviews with more female IT leaders
Getting creative and looking to the future
Flannigan recognises the scale of her four-pronged transformation programme is significant. "We're trying to do everything at once and that's audacious. However, the whole point of this approach is integration – and that's the genius of the transformation strategy," she says.
"The tills programme, for example, is valid in its own right. But the project is also a key enabler for loyalty, so people can redeem vouchers and then that information can be linked through to finance. And if the member uses the voucher to visit a property, we can send a follow-up email about further events and offers, before using Tableau and the marketing software to track the business benefits."
The multi-pronged transformation also provides benefits to Flannigan at a personal level. "I need a challenge to stimulate me as a leader," she says. "I really enjoy the crossover of complex technology and change management." One key element of this management process is ensuring employees and volunteers across the trust buy into the aims of the transformation initiative. Yet Flannigan says people have been really receptive.
"We have wonderful staff and we've also worked hard to engage with people and promote change, including the running of regional roadshows about the transformation programme," she says. The 20 roadshows across the UK included about 100 National Trust employees at each location. Attendees were asked to interpret the transformation programme through a drawing.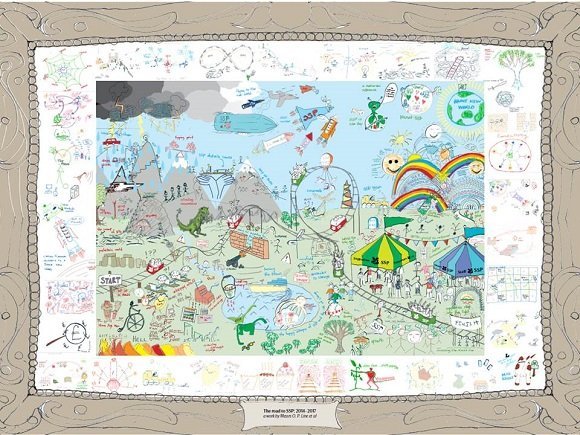 Transformation roadshow
Flannigan describes the results as extraordinary, saying people created rollercoasters, penny-farthings, snakes and ladders, and rainbows. "It became a huge crowdsourcing exercise and it provided a really useful way to understand what people thought of the programme," she says. Flannigan was so impressed that she pulled the results together as a collage (pictured, left), in a further example of her creative approach to people and change management.
She anticipates the transformation programme will be finished by mid-2016, by which time Flannigan expects the organisation will truly be transformed and the trust will have more money to spend on its core purpose of preservation. "We have a huge backlog of work to complete at our properties and our staff will be happier because they will not be weighed down by the laborious tasks associated with administration," she says.
Do not, however, make the mistake of thinking that the end of the transformation programme represents a hard stop. As she gazes into the future, Flannigan mentions long-term aims around the development of internal capability, crowdsourcing knowledge and sharing resources digitally. "That work will be all about using technology to enhance the customer experience. We'll never stop transforming," she says.