UK SMEs lose ₤90m because of missed calls
UK SMEs lost ₤90m sales last year by failing to pick up phone calls because customers will not call back again
UK SMEs are losing ₤90m in sales through failing to pick up phone calls – because customers will not call back again.
With mobile working and hot-desking proving popular IT trends, missed calls could be on the increase.
Research of 1,600 IT decision-makers in SMEs and users from IT services supplier BT Business found that, on average, a missed call loses a business £1,200.
If the SME remains beyond contact for a 24-hour period, the average loss was £9,000 – and as high as £20,000.
Danny Longbottom, managing director UK SME, at BT Business, said customers understand missed calls means missed business. "Companies, especially SMEs, are becoming increasingly mobile – 77% offer flexible working and 45% hot-desking, according to the research – so getting calls to the right person is more difficult."
He said IT plays an important part in ensuring calls are routed to the right place at the right time. "No-one cares about how a call is routed, especially the customer – they just want to speak to the right person," added Longbottom.
Read more about SME IT:
Smallest businesses the biggest losers
According to the research, the biggest losers are the 63,400 very small businesses with 20-49 workers. This group lost a total of £36,518,400 in the 12 months between April 2013 and March 2014.
Businesses with 50-99 staff lost £35,326,615 during the same period and SMEs with 111-250 employees lost £17,730,150.
The research found that two-thirds of the IT-decision makers polled believe the ability to work from anywhere with the same functionality on mobiles as on desk phones would help their organisation be more productive.
"When coupled with the statistic that four-fifths of those questioned said they spend some time out of the office, with more than half using three different devices to communicate while at work, the need for agile call routing to avoid lost business becomes clear," said the report.
Content Continues Below

Download this free guide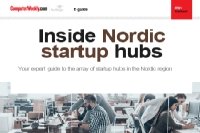 Inside Nordic startup hubs
In this e-guide, discover how the Nordic tech startup scene could rival the US's Silicon Valley. We also take a close look at some of the hubs on offer, with features on Google's investment in Finland, Sweden's hubs in Stockholm and Malmo, as well as Denmark's capital Copenhagen.