Microsoft and Amazon's cloud war reaches next level
Microsoft's Satya Nadella made a slew of Azure announcements in San Francisco
As we reach the final quarter of 2014, the industry is eagerly waiting for major announcements from the cloud biggies.
Amazon will do that at its annual AWS re:Invent conference in Las Vegas in the second week of November. Just a week before that, Google is planning to make a series of announcements at Google Cloud Platform Live.
In an attempt to steal the limelight, however, Microsoft CEO Satya Nadella made a splash last week at an event in San Francisco.
With that announcement, the cloud war between Amazon and Microsoft has gone to the next level. There is not an iota of doubt that both Microsoft and Amazon Web Services (AWS) are determined to get to the top spot by becoming the preferred enterprise cloud platform.
Here, we take a closer look at the announcements from Microsoft Azure.
The beefy G-Series VM sizes
Azure infrastructure as a service (IaaS) was launched with a limited set of virtual machine (VM) types that did not match the choice available with Amazon EC2. But over the past two years, Microsoft kept adding new VM types to meet enterprise requirements. At the same time, Amazon added new compute, memory and storage-optimised instance types in the form of its C3, R3 and I2 family.
Both Microsoft and Amazon Web Services (AWS) are determined to get to the top spot by becoming the preferred enterprise cloud platform
Enterprise workloads moving to cloud need powerful instance types that deliver the same performance as the on-premise servers. Unlike web-scale applications that can run on a fleet of cheap, low-end VMs, these workloads need beefy, powerful, monolithic VMs with a lot of compute power and memory capacity. They need high input/output operations per second (IOPS) to deliver expected throughput.
Amazon's r3.8xlarge EC2 instance type has 32 vCPUs with 244GB RAM along with SSD storage. This is the maximum RAM that any EC2 instance type can support. Microsoft announced new G-Series VM sizes that offer double the RAM of Amazon EC2. With 32 cores, 448GB of RAM and 6,500GB of SSD storage, the Standard_G5 VM size beats every VM type available in the public cloud.
This is a big deal for enterprise customers running SAP, Oracle OLTP and OLAP, PeopleSoft and other heavy line-of-business applications.
The other important factor to note is central processing unit (CPU). Amazon EC2 R3 is based on the Intel Xeon E5-2670 v2 family of processors, while Azure G-Series is based on the Intel Xeon processor E5 v3 family. Below is a comparison of Azure G-Series and Amazon R3 instance types.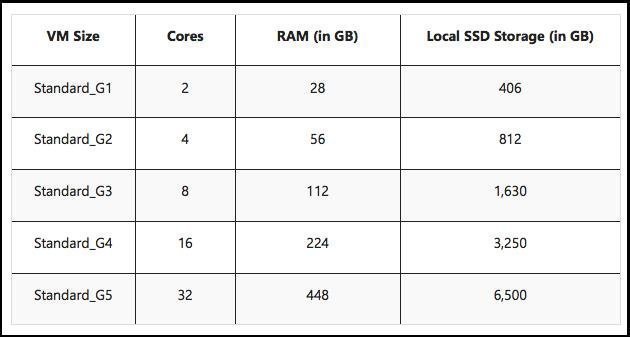 Microsoft Azure G-Series instance types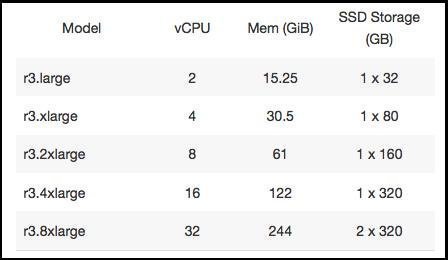 Amazon r3 instance types
This move from Microsoft has taken Azure one step closer to enterprises, but nothing will stop Amazon from countering this with new instance types.
SSD-based premium storage
Azure initially suffered from IOPS issues that prevented IO-intensive workloads from running on its cloud. Microsoft first added SSD disks to the VMs and now comes out with a massively scalable and performance-driven SSD storage type called Azure Premium Storage.
Customers can attach multiple SSD disks to a VM and stripe them to get up to 32TB of storage per VM which can deliver over 50,000 IOPS. This is a drastic improvement over current Azure block storage.
Combined with the G-Series of VMs, Azure Premium Storage makes it easy to lift-and-shift legacy enterprise applications to Azure. With this, Microsoft almost matched the performance of SSD-based elastic block storage (EBS) provisioned IOPs (PIOPS).
Azure Marketplace for enterprises
According to Microsoft, 40% of Azure revenue comes from independent software suppliers. Given the strong relationship Microsoft had with these suppliers, it is not surprising to see that. With all the .Net desktop applications moving to software as a service (SaaS), Azure is becoming the preferred destination for the independent software suppliers and product companies.
Read more on Microsoft Azure
Microsoft Azure partners capture cloud opportunities
Partners weigh in on Azure management tools
Microsoft Azure partners benefit from vendor's enterprise foothold
With Azure Marketplace, Microsoft will connect enterprises with the product companies hosting their SaaS solutions on Azure. This will be a win-win situation for Microsoft and its customers.
In contrast, AWS Marketplace has been operational for two years with hundreds of products available ready to be launched on AWS.
Microsoft already has a platform branded as Azure Marketplace, but it doesn't have the ecosystem that Amazon has. With the revamped strategy, Microsoft is hoping to bring its partner community closer to the customers.
CoreOS, the web-scale, lightweight Linux OS, made its debut on Azure through the Marketplace.
Cloudera on Azure
When Microsoft decided to bring big data to Azure, it chose to go with Hortonworks, a Yahoo spin-off. Given Microsoft's friendly relationship with Yahoo, it was an obvious move.
Hortonworks is thoroughly integrated with Azure as HDInsight. In a surprising move, Microsoft invited Mike Olsen, co-founder and chief strategy officer at Cloudera, to the stage at the event to demo the technology running on Azure.
Microsoft never previously had a relationship with Cloudera, which happens to be the biggest rival of Hortonworks. With Oracle's investment and its big presence on AWS, Cloudera was never in Microsoft's radar.
It was a win for Cloudera to make its stack available on one of the popular platforms. For Microsoft, it made a strong statement that it is willing to go to any length to get the big brands on its side.
Cloud Platform System – Azure in a box
This was the biggest announcement of the day. Microsoft is in a tussle with AWS on the public cloud while trying to tackle VMware and Red Hat in the private cloud market.
In recent months, VMware has made tremendous progress with its hybrid cloud strategy. It launched hyper-converged infrastructure in the form of EVO:RAIL and EVO:Rack, while also adding numerous features to vCloud Air.
Red Hat is moving fast in attracting enterprises through its OpenStack-based private cloud offering. With Cloud Platform System (CPS), Microsoft has entered the niche converged infrastructure market dominated by the likes of Nutanix and VCE.
This will be the on-premise "cloud-in-a-box" that customers can deploy within their datacentre. This will be the gateway to Azure connecting on-premise assets to the public cloud.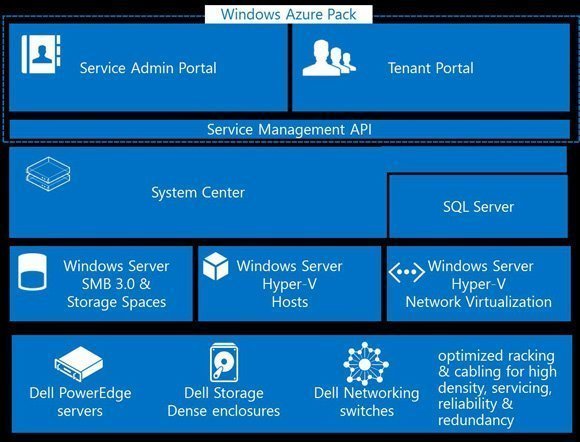 Cloud Platform System - Microsoft's cloud in a box
According to Microsoft, a customer can deploy CPS in increments from one to four racks. Each rack has:
512 cores across 32 servers, each with a dual-socket Intel Ivy Bridge, E5-2650v2 CPU
8TB of RAM with 256GB per server
282TB of usable storage
1,360Gbps of internal rack connectivity
560Gbps of inter-rack connectivity
Up to 60Gbps connectivity to the external world
It's not the first time Microsoft has attempted to build a cloud appliance. In 2010, it announced Windows Azure Platform Appliance (Wapa), which had Windows Azure, SQL Azure and a Microsoft-specified configuration of network, storage and server hardware.
Read more on AWS
Sorting through AWS Data Storage options
AWS Activate helps ignite cloud startup fire
Manage AWS costs with proper application modelling
But Microsoft was ahead of the time in launching converged infrastructure. With the market dynamics turning favourable and the competitive pressure increasing, Microsoft has gone for a second shot with the cloud appliance.
Interestingly, it is Dell that provided hardware for both Wapa and CPS. VMware also chose Dell for its EVO family.
For Microsoft, the Cloud Platform System will become the cornerstone of its hybrid strategy. The CPS appliance will attract healthcare, public sector and federal agencies to Azure. Customers with sensitive workloads that have strict security and compliance requirements will take advantage of the CPS.
Docker on Azure
Container technology is currently red hot in the market. Docker is riding the wave by getting the attention of the industry.
Having announced the integration of Docker with the next version of Windows Server, Microsoft has gone ahead with deeper integration with Azure. Microsoft will host the registry of Docker images that developers can access from the Azure Management Portal.
Linux VMs running on Azure are getting extensions to simplify launching Docker containers on the Microsoft cloud. It will be interesting to see how the Docker and Microsoft partnership will pan out.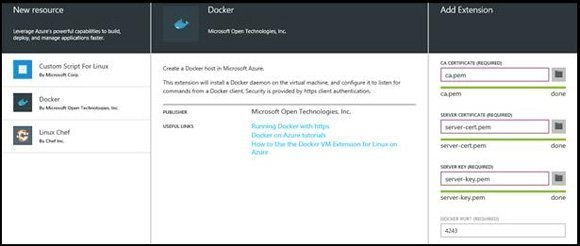 Microsoft will host the registry of Docker images that developers can access from the Azure Management Portal
Chief executive Satya Nadella, with support from Scott Guthrie, executive vice-president of the cloud and enterprise group at Microsoft, is leaving no stone unturned in making his cloud-first vision a reality. Last week's announcements are certainly a major milestone for Microsoft and its ecosystem.
The cloud war is hotting up and the industry awaits Google and Amazon's responses to Microsoft's move.
---
Janakiram MSV is a Gigaom Research analyst and the principal analyst at Janakiram & Associates. He is a regular contributor to Computer Weekly and can be followed on Twitter at @janakiramm.
Read more on Clustering for high availability and HPC