Budgets up as virtualisation brings storage and backup headaches
Survey finds storage budgets rising and more firms getting flash, but server virtualisation is pushing capacity needs
Organisations are buying more storage capacity. That is not news. It is a fact of life. But what is different, as revealed in this year's TechTarget Storage Purchasing Intentions survey, is that storage budgets have started to increase for a growing number of IT departments.
Other highlights of the survey include:
The survey questioned 511 IT professionals responsible for buying storage capacity, storage networking equipment, backup, disaster recovery and management products.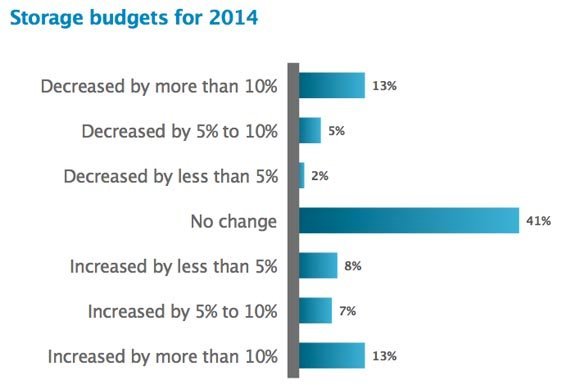 Storage budgets
Most (69%) manage storage budgets under $1 million, but 18% manage budgets in excess of $1 million. Of those questioned, 54% manage more than 1TB of capacity and 11% manage more than 1PB.
The largest number of those questioned (41%) registered no change in storage budgets for 2013-2014. But for a healthy minority (28%) things are looking up, with budgets increasing, although that is to some extent counterbalanced by the 20% reporting tighter storage budgets than the previous year.
More on managing storage capacity
Most valuable storage metrics describe performance, capacity
Curbing data storage capacity demand
Achieve data storage capacity efficiency with virtual storage, SRM
That picture is an improvement on 2013, when the same number reported increased budgets, but 28% said storage budgets had fallen.
It is fair to assume that a lot of IT professionals have to do more with less or re-route spending – while budgets are often static, storage capacity growth is not.
Exactly half of all respondents have seen capacity grow between 1% and 20% over the previous year. Meanwhile, 28% of the survey participants saw capacity grow by between 21% and 40%, and 13% saw a staggering capacity growth of 41% to 60%.
Disk capacity is a major outlay for IT departments. Just over one-third (35%) of respondents indicated they would buy between 1TB and 10TB over the year, while 27% expect to buy between 11TB and 50TB. At the top end, 25% said they would need to buy more than 51TB in 2014.
Disk systems and flash storage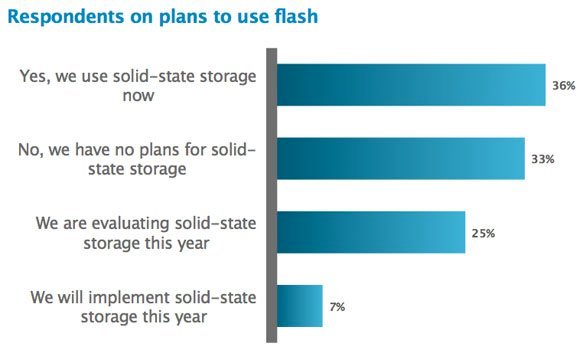 Plans to use flash
Flash storage of various types – all-flash arrays, hybrid arrays and PCIe server flash – have attracted interest of the past few years, but how is that translating into real-world deployments?
Quite well. More than one third (36%) already have flash storage in place, while 25% will evaluate it in 2014 and 7% have firm plans to implement it. The largest number (27%) plan to deploy between 1TB and 10TB of flash this year. Meanwhile, 23% plan to install less than 1TB of flash.
The big six storage vendors unchanged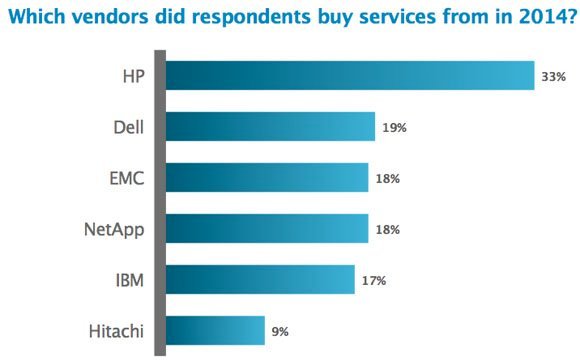 Popular vendors
When asked what type of currently installed storage systems, NAS came out on top, with deployments at 61% of respondents' organisations.
Fibre Channel SAN is the second most popular (54%). Direct-attached storage and iSCSI SAN deployments tied at third on 39%, while unified storage (SAN and NAS) is in fourth place at 23% of organisations.
Object-based storage, a rising star in terms of column inches and hype, was deployed by a mere 4% of respondents.
More on flash storage
When asked who they buy disk storage systems from, HP came out on top with purchases by 33% of respondents.
After that came Dell (19%), EMC (18%), NetApp (18%), IBM (17%) and Hitachi Data Systems (9%). Fujitsu is snapping at the heels of the big six with 7% of those questioned being purchasers of its storage hardware.
Buyers in 2014 overwhelmingly indicated the key factors in storage system purchases are product features and function (39%) and price (22%). Technical support and service is the next most important factor (for 17%) in a buying decision.
Virtualisation brings storage headaches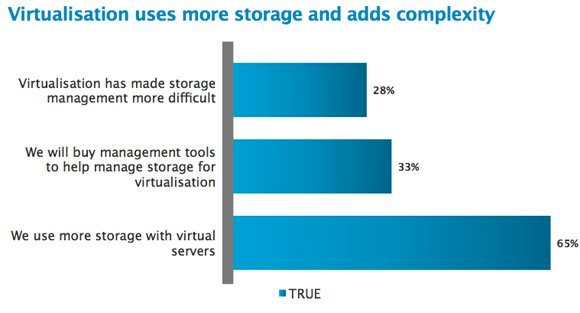 Virtualisation issues
While virtualisation clearly has many benefits, those come at the cost of increased amounts of storage that is more difficult to manage.
Nearly two thirds (65%) said they needed more storage for virtual servers and more than a quarter (28%) said server virtualisation had made storage management more difficult. One third (33%) said they would buy management tools to help manage storage for virtual servers.
More on storage and virtualisation
Fibre Channel SAN storage is the most popular way of supporting virtual servers, with 43% of those questioned indicating its use in such scenarios.
Direct-attached storage is the next most popular (18%), with iSCSI SAN following on (15%) and NAS in use by 11%. A mere 13% said they hadn't virtualised any servers yet.
Fibre Channel SAN is also the most common method of providing storage for virtual desktops, in use with 17% of respondents. NAS is next most common (11%) followed by iSCSI SAN (7%). Nearly two thirds (63%) said they had no virtualised desktops.
Weak cloud traction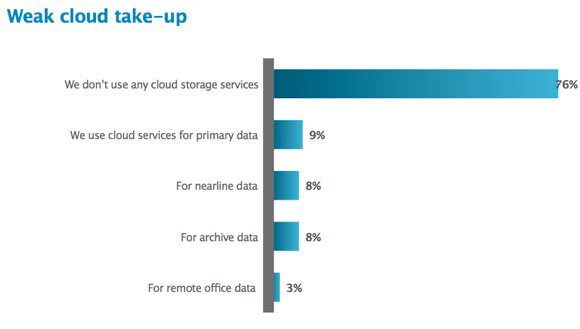 Cloud popularity
Public cloud storage take-up was weak, with 76% declaring they do not use such a service at all.
Meanwhile, roughly similar minorities use public cloud for primary data, nearline data and archiving (9%, 8% and 8% respectively).
More on cloud storage
Primary data storage options for the cloud
Hybrid cloud storage: What data goes where?
Cloud storage: A threat to entry-level/mid-range storage arrays
Private cloud appears to be more popular so far with 15% having deployed it and 13% planning to implement it in 2014.
Meanwhile, 12% have deployed private cloud-based file sharing and synchronisation, but only 7% use its public cloud counterpart.
Email is the application most commonly dealt with via cloud backup or disaster recovery, as indicated by 18% of respondents. Other apps entrusted to the cloud are end-user files (12%), databases (11%) and desktop and notebook files (10%).
Tape backup giving way to disk
While sections of the supplier side of the industry have long declared tape dead, the user community is not rushing to the funeral.
More on disk-based backup
Examining today's available disk backup solutions
Are disk-to-disk backup solutions too slow for modern recovery?
Nearly one fifth (19%) send all data to tape, while 37% use tape backup for some data. Meanwhile, 37% of respondents have kicked the tape habit and moved to disk as a permanent home for backups.
Those figures show a trend towards disk backup and away from tape. In 2013, 24% sent all data to tape and only 32% had kicked the tape backup altogether.
For those who have shifted to disk-based backup the most popular vendor is HP, with a 19% share of those questioned. EMC is a close second at 18%, followed by Dell (7%), Symantec (5%), IBM (5%) and Quantum (5%). Nearly one fifth do not use a disk-based backup supplier, which fits with the results on tape use above.
Veeam joins top table of backup app suppliers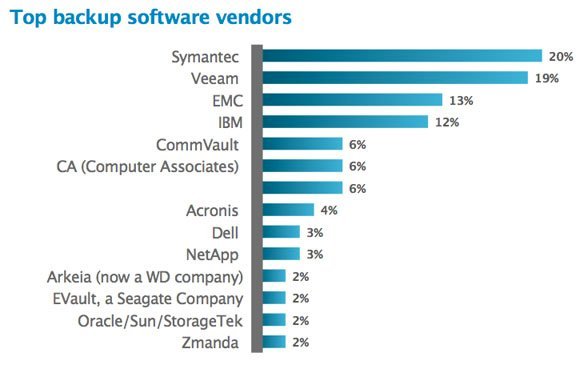 Leading backup software suppliers
The top backup application suppliers are led by Symantec (20%), followed by virtual server backup specialist Veeam (19%), HP (15%), EMC's NetWorker and Avamar products (13%), IBM Tivoli Storage Manager (12%), then CommVault, CA, and Microsoft, all with 6% of respondents.
In 2014, 32% will increase their spending on backup software, while most (65%) expect it to stay the same. A mere 3% expect it to decrease.
Virtual server backup methods still diverse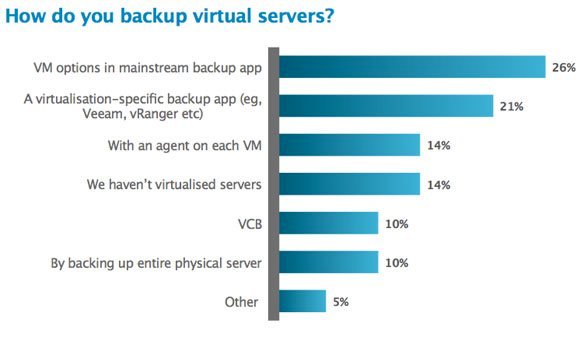 Backup methods
Virtual server backup has been a troublesome issue since virtualisation swept the world's datacentres, rapidly going through various methods and approaches over the past few years.
According to our survey, the use of virtual machine backup options in mainstream backup apps is now the most common method, with 26% reporting they do it that way. Meanwhile, 21% report they use a specialist backup app for virtual environments, such as Veeam.
More on virtual server backup
Those figures show a shift towards backing up virtual servers with mainstream backup apps. In 2013, 20% did it that way, while 18% used a specialist virtual server backup app.
Some, however, cling to the older methods, with 14% putting an agent on each virtual server in an analogue of methods used in pre-virtualisation days while 10% use VMware Consolidated Backup (VCB).
This year's results show a drift away from these methods of protecting virtual machines. In 2013, 25% put an agent on each virtual server and 14% used VCB.
While many (49%) in 2014 say they find no problem with virtual server backup, 16% say they back up too much data, 12% say it's a complicated process, 9% find it difficult to access files for restore and 9% say it uses more disk capacity than before virtualisation.
Endpoint/BYOD devices often unprotected
More on BYOD backup
BYOD backup: A looming Bring-Your-Own-Disaster
Bring-your-own-device (BYOD) and legal/regulatory compliance
When it comes to desktops/laptops and tablets/smartphones, a lot of data is unprotected.
Nearly half (48% and 49%) of desktops and laptops are not backed up at all. Of those that are, 21% of desktops and 16% of laptops are covered by the organisation's main backup app, while 20% and 23% of end users run their own backups.
Of those more likely to be BYOD hardware, very few tablets (3%) and smartphones (2%) are protected by the organisation's main backup app. For both classes of device, 19% said end users carry out backups, while 9% said this is dealt with by the cloud. A good majority (67% and 69%) are not backed up at all.
Replication tops disaster recovery spend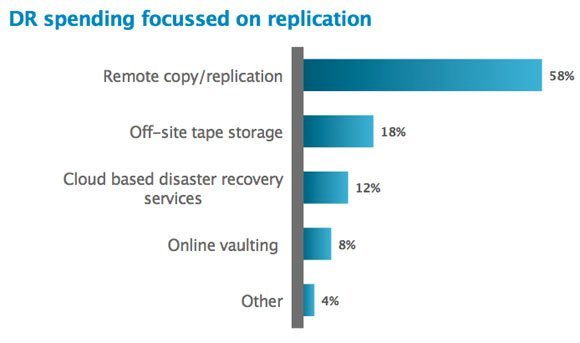 DR spending
The largest number of respondents (40%) said spending on disaster recovery products in 2014 would stay the same as 2013, but almost the same proportion (39%) expect it to rise. Only 4% expect to see a decrease.
Of those set to spend on disaster recovery, remote copy and replication will form the bulk of that (58%).
More on backup
Hypervisor-based replication vs. traditional replication
Off-site tape storage will soak up budget for 18%, while cloud-based disaster recovery will be the target for 12%.
Spending on replication for disaster recovery is reported to increase 37% over 2013 figures, our respondents said, while cloud disaster recovery spending is set to grow by 19% and with negligible decrease for either category.
Off-site tape, however, while registering an increase in spending in 2014 for 10% of respondents, will see a similar number (9%) reduce budget going in that direction.
Storage efficiency technologies
Our survey confirmed thin provisioning is now mainstream, with 43% having it in place, 9% planning to add it in 2014 and 11% evaluating it. Meanwhile, storage tiering is already deployed by 28% and 9% plan to do so this year.
More on storage efficiency technologies
Capabilities and limitations of thin-provisioned capacity
Comparing available deduplication hardware options
Top considerations for deep archive design
This year will see a substantial proportion of those questioned introduce data deduplication for primary storage. While 23% already have it, 16% will add it in 2014 and 28% will evaluate it, presumably driven by the growth of data volumes and the need to improve disk utilisation.
Possibly driven by compliance requirements, archiving activity also seems set to ramp up. Nearly a quarter (24%) already archive their data, but 8% plan to add it in 2014 and a whopping 31% will evaluate it.
Most (52%) haven't virtualised their storage, but an almost equal number have virtualised some of it (27%) or will evaluate storage virtualisation in 2014 (21%).
More on storage virtualisation
Storage virtualisation: An old idea being revived?
Storage virtualisation vs software-defined storage
The numbers who have virtualised storage are about the same as 2013, but there is a big increase (from 11%) that will evaluate it.
That increase could be down to the emergence of products and platforms that incorporate storage virtualisation, such as EMC's ViPR and VMware's VSan.
Read more on SAN, NAS, solid state, RAID