Parliamentary computers crash 90 minutes after IT assurances
Network suffers 'major incident' soon after MPs and Lords are told, "It is working much better"
Parliament was hit by another computer crash within 90 minutes of an assurance to MPs, peers and their staff that the system had been fixed.
It is the latest problem for its computer system, which is used by thousands of staff at the parliamentary estate, including MPs and lords.
An email from Joan Miller, head of IT for the Houses of Parliament, which said an outside contractor had been brought in to improve the systems, only to make them much worse, was revealed last month by investigative website Exaro.
Users of the system repeatedly endured interrupted and slow internet access, delayed delivery of emails sent outside Parliament, and computers that kept freezing.
Miller apologised for the problems, which resulted from an upgrade to the network. She said: "Unfortunately, in January, one of our suppliers involved in this upgrade inadvertently introduced an error into the supporting software. This had the opposite effect of that intended; that is, it reduced the capacity of the access to the internet."
MPs and staff said that they had been "driven mad" by the system.
Problems fixed and systems working well
Following the Exaro report, Miller wrote a further email to all users of the parliamentary network to reassure them that the system was working well.
In this second email, also obtained by Exaro, Miller said: "Our suppliers have successfully increased the capacity and resilience of our network connections to the internet and the associated security systems. Following a 30-day plan of improvements, completed on 8 March, our monitoring shows that the capacity and the stability have significantly improved. Access to the internet (and internet-based services) from the parliamentary estate should now be much better.
"In view of this improvement, I am pleased to say that we are now in a position to continue to progress the migration of the remaining 1,200 or so administration email accounts to the [Microsoft] Office 365 service."
She added: "Follow-up work is also underway to provide expandable network capacity to cater for the safe migration of member and members' staff email and Office services to Office 365 from the beginning of June. Depending on the outcome of the members' pilots, we plan to commence the wider migration from that date."
Parliamentary systems broken again
But, just 89 minutes after those assurances, "customer relations" for Parliament's IT service was forced to send out an email to the "major incident group".
"Potential MI [major incident]," it said. "Some customers are experiencing issues with internet access."
It called for a meeting of the technical team 15 minutes later (see screenshots of the two emails below).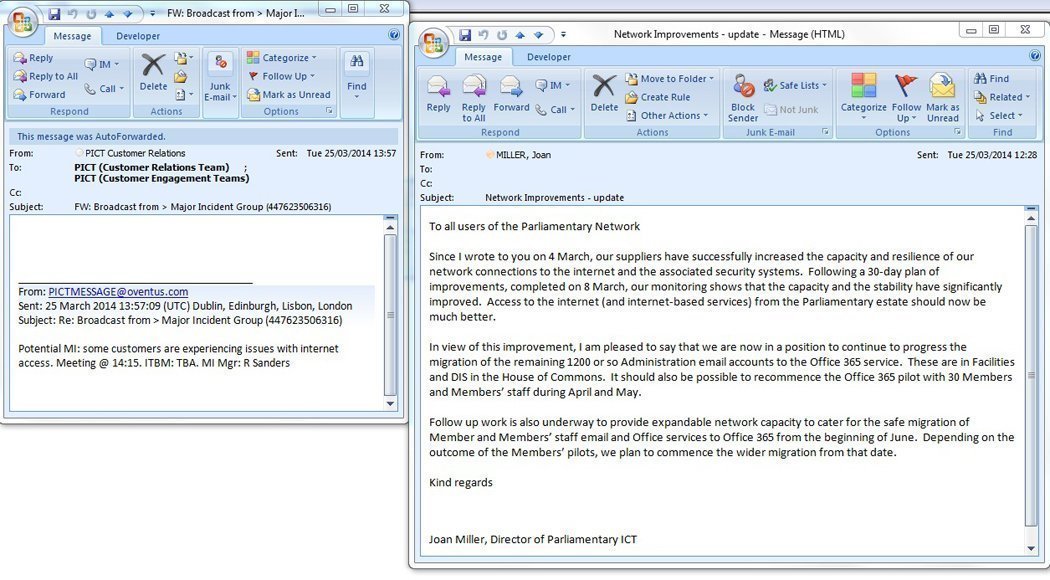 Following the report by Exaro last month, Miller told Computer Weekly: "We have had problems with our connection to the internet, but these are now resolved.
"With the complexity of a large-scale secure network, one can never be sure there will never be any disruptions. However, we do strive to provide a 99.99% resilient service, and mostly we manage that."
But MPs and staff say problems persist.