How to slash the cost of big data analytics
Darren Robertson, digital communications officer at Action for Children, believes hunger for knowledge and insight could revolutionise charities
There is an increasing thirst among charities to tap into big data to improve the effectiveness of campaigns.
Darren Robertson (pictured), digital communications officer at Action for Children, believes hunger for knowledge and insight has the potential to revolutionise the charity sector.
In recent years, with the worsening economy, charities have needed to ramp up data analytics in an attempt to boost fundraising.
"Charities realise they have [collected] amazing data," says Robertson. Just as in the commercial sector, he says this data can be harnessed to help charities improve their understanding of what people want and gain greater insight into why and when they chose to donate.
This is an important consideration because the nature of attracting donors is changing, according to Robertson.
"National campaigns cannot exist like they did in the past. We can't afford to pump massive amounts of money into nationwide TV campaigns. In this day and age it is unacceptable and a waste of charity money," he says.
Extracting value from web data
Instead of trying to attract donors through such campaigns, Robertson believes targeted campaigns based on web metrics are the way forward.
"I'm a great fan of Google Analytics. It is free, and you get basic insight from your website," he says.
Using a hybrid cloud for web log analysis
Action for Children is using a hybrid cloud from Rackspace to increase the effectiveness and availability of its website.
The charity chose a hybrid cloud to host web logs, allowing it to make sure the site remained responsive.
Darren Robertson, digital communications officer at the charity, says: "People expect any website to be like Amazon and very responsive, so we need to understand the user.
"Storing that log information internally is too expensive. This is where the cloud comes into its own. We don't have to worry about data growth."
The challenge for the charity sector is how to drill down and analyse a web log holding 3,000 visitors per day, including their interactions with the website.
The cost of analysing big data is prohibitive. "We worked out it would cost £1.2m to deploy Hadoop internally. The general public would not be happy if we spent that much money on IT equipment," says Robertson.
Action for Children has been using cloud and datacentre hosting company Rackspace to position itself for the future. Key objectives included cost-effective management of web traffic spikes and better data analysis to provide deeper insights into customers and fundraising activities.
In February 2013, Rackspace acquired ObjectRocket, allowing it to provide MongoDB database as a service.
Robertson says the ability to run MongoDB on Rackspace's infrastructure as an on-demand cloud service removes massive costs and means the charity does not require a team of in-house MongoDB specialists.
On-demand big data analytics has wider implications across the charity sector, according to Robertson. "I expect we will see a much wider move to do data analysis in the cloud," he says.
Just give your time and skills
While the technical skills in managing big data can be handled by a cloud provider, Robertson says charities will require specialised help for data analysis.
Taking a bunch of data scientists to help charities to analyse data is really useful. This is the beauty of DataKind

Darren Robertson, Action for Children
Data scientists are among the most sought-after skills in the commercial sector and can command salaries that put them out of reach of charities. But there is an alternative to hiring, he says, which means "charities don't have to worry about paying high salaries for data scientists".
Help came to the UK last year when US organisation DataKind ran its first London-based event, encouraging data scientists to give up a bit of their time to help charities.
"Corporate social responsibility has changed. Companies do not necessarily want to donate money and the staff don't really want to paint walls or do gardening. They want to use the skills they have and use their knowledge to help charities. This is the beauty of DataKind. Taking a bunch of data scientists to help charities to analyse data is really useful," says Robertson.
So with on-demand MongoDB, thanks to Rackspace's ObjectRocket, and a supply of data scientist volunteers, Robertson believes charities are well-placed to make the most of big data.
The path to Amazon
Robertson says everyone expects websites to be easy to use. "It's a knock-on effect from the commercial sector. People see websites like Amazon and Netflix that have intelligence built-in," he says. These sites use recommendation engines, which highlight products based on people's browsing history.
It is an area that Robertson believes is beyond the reach of the charity sector. "We have never had the financial backing to go down [the route of developing a recommendation engine]. Think of how much Amazon has invested," says Robertson.
More on data science
Does business have the patience for data science?
Instead, he has to conceptualise how a charity would approach Amazon-like segmentation, allowing it to identify one user by publishing dynamic web content based on what the charity knows about that individual.
But it is still a long way off, he says: "The theory is valid, but it's about building up a massive workaround in terms of what we put in our CRM [customer relationship management] systems. We haven't got the same skills as the commercial sector."
For the time being, Robertson is working on what he calls thematic segmentation. "I've been working on a sector-wide approach for a gift model that segments users," he says.
While charities tend to do a lot of manual segmentation of donors based on theory, Robertson says this is not necessarily the best approach.
He has been investigating how to find the easiest way to group people together. "People aren't likely to give to every single campaign; there are things that tick their boxes," he says, pointing out that sending the same people a campaign every month is not good use of technology and it is not logical to send a campaign out to everybody.
Thematic segmentation would be a big step forward in improving the effectiveness of attracting donors to campaigns, he says. By using thematic segmentation, Robertson has analysed how much donors have given over time and the earnings of various campaign themes.
Scrap bespoke IT
Regarding the limitations of charity CRM systems, Robertson believes charities must make a big change in how they look at technology.
We don't need software built specifically for charity. Let's build things and mash data together

Darren Robertson, Action for Children
"Traditionally, a charity would have looked at bespoke charity CRM software," he says, "but we don't need something built specifically for charity."
Robertson says the charity sector is beginning to open its eyes and look beyond bespoke software to reduce costs considerably, adding that "bespoke systems are cumbersome and complex to integrate with email".
For Robertson, bespoke software is not a good thing in the charity sector. He believes open source will have a very active role to play. And thanks to organisations such as DataKind, he says the time is right for charities to start analysing big data: "Let's try to build things and mash data together."
And while it may not always be possible to turn to DataKind, Robertson believes some charities may have the skills in-house across various teams. "They will have a group of people with skills that will create a working group, which can function as a data scientist," he says.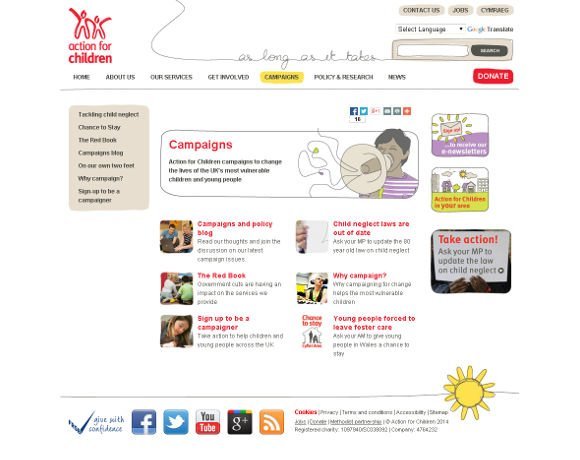 Read more on Big data analytics