IT professionals see above national average salary increases of 4%
Big data, ecommerce, mobile and IT security roles see 4% salary increase for 2014 according to UK survey
IT roles in big data analytics, ecommerce, mobile, and IT security will see a 4% salary rise this year, compared to the UK average of 2.5%, a survey from Robert Half Technology has found.
The Robert Half Technology 2014 Salary Guide found that between 2013 and 2014, salaries will increase by 4% for web designers, information security managers and officers, and database and business intelligence developers, while mobile applications developers will see a rise of 4.1% (see image 1 below).
Other roles to see an increase in salary include chief information officer (2.3%), chief technology officer (1.5%), chief information security officer (3.5%), chief architect (2.4%), IT director (2.2%) and IT manager/head of IT (1.9%) (See image 2 below).
Phil Sheridan, senior managing director at Robert Half Technology, said: "Technology is a key element in the recovery of the UK economy, whether it's supporting new propositions or helping to improve business operations.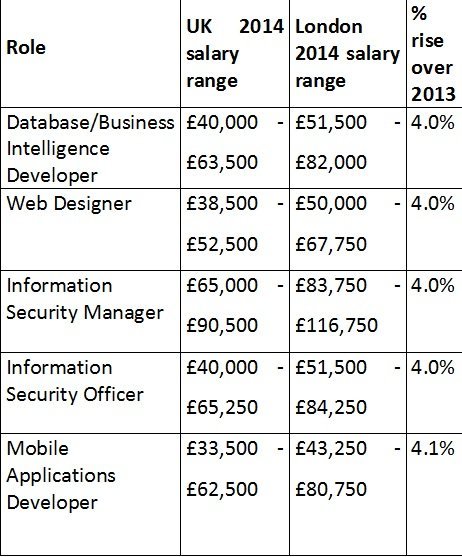 Image 1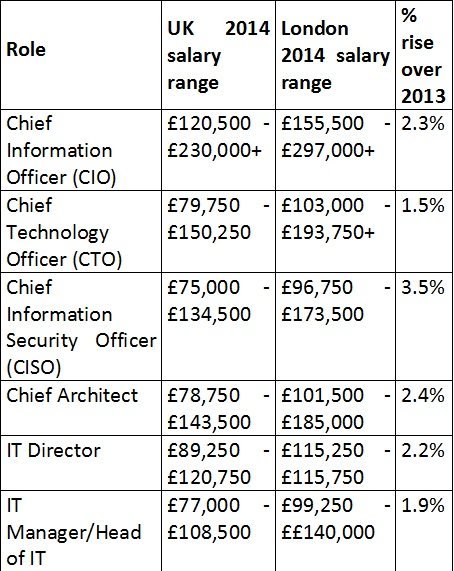 Image 2
"Candidates with the most sought after skills are receiving multiple job offers and employers looking to secure the industry's top talent are finding that lengthy interview rounds are prompting their top choices to accept competing offers.
Robert Half Technology believe the trend is being driven by the need for businesses to remain commercially focused through improving employee productivity with desktop and business application updates in addition to improving their customers online experience through website moderations.
A report from the UK Commission for Employment and Skills (UKCES) found that employment in the IT industry grew 5.5% between 2009 and 2012, more than three times faster than the UK average.
Sheridan added: "Companies will use technology to grow their businesses as we emerge from the economic downturn: candidates with a strong sense of commerciality and business acumen as well as technical skills are increasingly called on to manage product development lifecycles and deliver business solutions."