CIO interview: Mike Timlett, CitySprint
Mike Timlett's career as an IT director has tracked the rise of mobile technologies that empower new business processes
Mike Timlett's career as an IT director has tracked the rise of mobile technologies that empower new business processes.
Timlett is IT director at same-day courier CitySprint. Speaking to him is like a nostalgic trip looking back at the last decade of the computer industry with classic products and technologies that were the trendsetters of the early to mid-noughties.
That said, he says he does not get hung up on the technology. "The real pleasure for me is designing the systems that support the business," he says.
His tech specialists and architects are the firm's Linux, Windows and systems experts.
"They are the guys that provide the information for me to make the decision on which way [the IT strategy] will go," he says. "I am only interested in delivering the right service to the business."
CitySprint's main office is in London, one of the biggest same-day courier markets in the world. The firm has a national network that can reach 80% of the UK population within an hour. Timlett says this is only possible thanks to strategic use of IT.
He admits logistics has multiple meanings and the services the company offers is orientated towards a customer's specific requirement.
The real pleasure for me is designing the systems that support the business

Mike Timlett, IT director, CitySprint
CitySprint's variety of collections and deliveries may involve collection from a warehouse, a distribution centre or a shop – or CitySprint may need to provide auditable tracking for handling pharmaceuticals, pathology or forensic samples," he says. "We are very good at designing logistical solutions around the customer's requirements and our systems have to be very tailored. But we try to make our technology as portable as we can make it."
So functionality developed for one application area, such as pathology, can be redeployed in another sector like parcels. "It is all about proof of ownership," he says.
The early days
Timlett has worked as IT director at same-day courier CitySprint for 10 years. He admits: "It's been an ever-changing job and it has been quite challenging as the technology has changed."
Previously Timlett worked at DHL for Securicor, as an IT manager where he would go onto customer sites to provide IT integration.
"There is quite a big difference between moving a box overnight at DHL compared with the same-day business," he says.
Before he started at CitySprint, the company went through a management buy-out. The new management team realised that IT would be a key differentiator for the business. CitySprint is Timlett's first directorship.
"The board wanted to elevate IT as a business unit to sit at the top of the business. Without IT, the business doesn't run," he says.
In 2003, many same-day couriers operated using manual processes and bits of paper.
"CitySprint realised this was not the way to scale. To grow you could not simply chuck extra people on top to manage the operation. Same-day is customer-facing and a very intensive, people-focussed business.
"We have to be on top of where our drivers are at all times, the work they have on board and their next job."
At the time, its main application, CityTrack, mirrored the paper processes found in other couriers. "CityTrack used a single UnixWare server running a Unify database and was a self-contained unit, which did not talk to the drivers," he says.
It is now a modularised system with around 19 servers, covering resilience, monitoring and address lookup among others.
His first task on joining CitySprint involved building on the original CityTrack application to allow the business grow, starting with resilience and adding more powerful hardware. The next enhancement involved using QAS, to allow callcentre agents to look up addresses quickly.
CitySprint then connected the CityTrack application to MapPoint (now part of Bing) to enable the agents to determine the mileage for a particular job and provide greater accuracy in estimating costs.
Mobile data
These enhancements occurred prior to mobile data: the first game changer.
"In 2005, we moved from providing every courier in the country with a radio to a mobile device," he says. "As soon as work was allocated to the driver, the system would transmit the job to the device."
Timlett's device choice was not a specialist hardware platform, which would have been prohibitively expensive, but an off-the-shelf O2 XDA. The XDA was a popular Windows CE device, manufactured by HTC among others, that originally started shipping in 2002.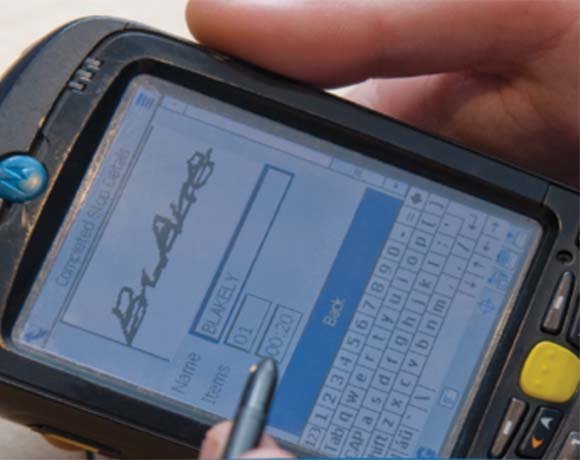 "The XDA allowed our controllers to double the number of drivers they could manage from 20-40," he says. The device also allowed CitySprint to report back to its customers on the status of the delivery.
"Within three seconds, the signature was with the customer. It was the first track-and-trace system in the same-day courier business," he says.
He also provided the drivers with a portable, bluetooth-based GPS device for tracking. These days, CitySprint provides the drivers with a Motorola MC55, a ruggedised PDA with built-in GPS.
Web services
XML and SOAP programming interfaces made up the next level of CitySprint's IT strategy.
The company uses Tibco to accept information from its customers electronically. The Tibco middleware allows CitySprint to map data from its customers onto the company's own internal data models in its core applications.
"We have a single-defined interface into CityTrack," says Timlett. "We recognised we needed to interface with our customers – we had to be flexible to attract new customers."
Timlett did not want to dictate what that interface should be, nor did he want his IT team to go through a massive development exercise for every customer.
"They can use our own interface or we can accept the data customers provide and map it automatically onto our own systems," he says.
It was important for CitySprint to build these interfaces quickly, while keeping the cost as low as possible, he says.
The need to build interfaces has grown as the company has built up its business in retail to support the way bulk delivery orders are processed.
"Amazon will give us several thousand consignments," he says. "We can process this information and reconcile the orders once we receive the physical item."
The interface works two-way, so CitySprint can pass information back to the customer, either via its website, email, text message or using multiple interfaces.
Optimising the business
Technology can greatly improve efficiency and enable the business to undertake activities that would have previously been impossible or extremely costly.
For instance, he says the company now uses Paragon Solutions for logistics planning.
"As mapping has got more powerful, we can do route design. Paragon gives us efficient route planning."
While manual route planning can take weeks, he says Paragon can knock out a route in minutes. "You have to be efficient as a business, both for the drivers and for the customers," says Timlett.
With customers like Amazon and its shift into retail deliveries, the company now faces the seasonal swings that retailers experience.
"December all the way up to Christmas Eve is our busiest time," he says. "During Christmas 2012 our [delivery] volumes doubled compared with Christmas 2011.
"The worst possible scenario for the business would be if the systems couldn't cope in December."
But he is confident this will not happen.
"Our systems are designed four to five years down the road for this peak. They are monitored 24 hours a day, seven days a week and we will exponentially plot forward [system capacity]. We are always on top and we can identity if there is any stress."
The systems are now hosted by Phoenix, running on VMware and managed by vSphere.
"Instead of buying racks of servers, we use blade, running vSphere and we can drag any instance from one server to another. Only the core Linux database is not virtualised," says Timlett.