EC fines Microsoft £485m for breaching browser choice ruling
The European Commission (EC) has fined Microsoft £485m for breaching a competition ruling to give Windows users a choice of browser
The European Commission (EC) has fined Microsoft £485m for breaching an anti-competition ruling to give Windows users a choice of browser.
As part of its settlement with the EC in 2009, Microsoft stripped Internet Explorer (IE) out of Windows 7. But the EC has now ruled that the software giant breached this agreement during 2010-2011.
Commission vice-president in charge of competition policy, Joaquín Almunia, said: "In 2009, we closed our investigation about a suspected abuse of dominant position by Microsoft due to the tying of Internet Explorer to Windows by accepting commitments offered by the company.
"Legally binding commitments reached in antitrust decisions play a very important role in our enforcement policy because they allow for rapid solutions to competition problems.
"Of course, such decisions require strict compliance. A failure to comply is a very serious infringement that must be sanctioned accordingly."
It is believed Microsoft took out the option for browser choice when it shipped Windows 7 SP1 in 2011, which means it will now need to issue an update.
According to the Wall Street Journal, Microsoft CEO Steve Ballmer lost half of his bonus last year, in part because of the Windows division's failure to provide a browser-choice screen, as required by the EC.
Last year Microsoft admitted a failure to comply with anti-competition regulations in July 2012. At the time, Ballmer gave assurances Microsoft would comply immediately, regardless of the conclusion of the anti-trust probe.
According to StatCounter, Microsoft Internet Explore 8.0 was the most popular browser in the UK in 2012, although globally, Google Chrome overtook IE in 2013.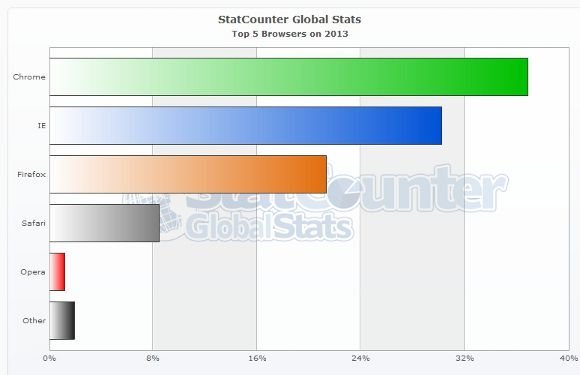 For web developers, browser choice is still an important issue, as there are subtle differences in how the browsers support new HTML features.
For instance, IE8 is not using HTML 5.0, while Chrome supports many features, according to The HTML 5 test website.