HTC One X and iPhone 5 rank highest for customer satisfaction
In terms of satisfaction, HTC's One X and Apple's iPhone 5 are the UK's favourite handsets
In terms of satisfaction, HTC's One X and Apple's iPhone 5 are the UK's favourite handsets.
In a study of 52,140 UK mobile users, carried out by On Device Research, the HTC One X topped the satisfaction table and the Apple iPhone 5 ranked second.
In the US, however, the iPhone 5 ranked fifth, lagging behind four Android devices. The Motorola Atrix ranked highest for customer satisfaction among the 93,825 US mobile users surveyed.
"Most people think the iPhone is the most innovative and interesting device out there, but our research has shown that it's only the fifth highest ranking device in the US, where it comes after four Android devices which seem to be really innovating and providing the best experience for customers," said Alistair Hill, co-founder of On Device Research.
Windows Phone failed to make it into the UK or US top five, but the mobile operating system did make an appearance lower down with other Android devices, according to Hill.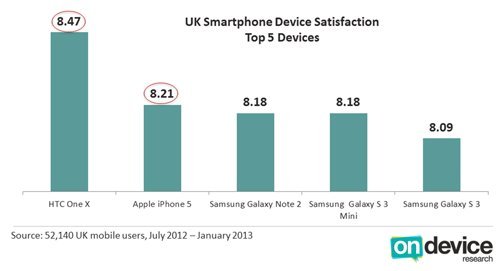 UK top five
"Windows Phone 8 sees a bit of an uptake, which is great for the company, but the best devices out there at the moment are generally from Far Eastern manufacturers which have innovated on Android platforms and created fantastic hardware," he said.
The study also revealed that users with a 4G subscription reported higher device satisfaction. In the US, where 4G connectivity is more commonly available than the UK, the top five smartphones were all 4G devices – Motorola Atrix HD, Motorola Droid Razr M, HTC Rezound 4G, Samsung Galaxy Note 2, Apple iPhone 5.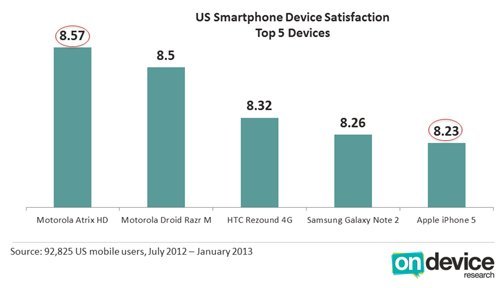 US top five
The survey found that in the UK, where there is only one 4G network operator, EE, the 4G-enabled iPhone 5 is under less pressure from competitor devices, and hence it ranked so highly.
"4G customers are generally becoming more satisfied with their devices, so there is an increase with the satisfaction of that phone that directly correlates to satisfaction with their mobile operators," said Hill. "So as mobile operators move from 3G for 4G, they're going to get happier customers."
In the UK, Android Samsung devices came in third, fourth and fifth places – the Galaxy Note 2, the Galaxy S3 Mini and the Galaxy S3 respectively.