HP bolsters PC business at Global Influencer Summit in Shanghai
HP launches a range of business and consumer laptops, thin clients and other devices at its Global Influencer Summit in Shanghai
Nine months ago, former HP CEO Leo Apotheker attempted to sell off the company's crown jewels. But now at its Global Influencer Summit in Shanghai, HP is attempting to rebuild the reputation of its PC business and show that PCs are core to its future.
HP senior vice-president James Mouton expects 2.3 billion PCs to ship globally by 2015, making the PC market a significant area for HP's future growth. The company is battling with the consumerisation of IT – which is seeing its core business value being eroded by the likes of Apple – as consumers bring their own devices to work, rather than use the standard corporate laptop.
HP is banking on the success of Intel's Ultrabook design to woo business users. Intel is making Ultrabooks its top priority for 2012, and HP is looking to the Ultrabook to bridge the divide between the corporate world and the home user.
HP takes on IT consumerisation
One of the new devices is the EliteBook Folio 9470m, due to ship in October. HP hopes the Ultrabook laptop will appeal to corporate IT departments and consumers. The device supports legacy connectivity such as a VGA video port and USB connections. HP says it offers nine hours of battery life, but this can be upped to 20 hours using an extended battery.
The 9470m is one of a family of Ultrabooks that also includes the HP EliteBook 2170p, a notebook with an 11.6" screen that weighs 1.31kg.
Desktop virtualisation
With Dell's surprise purchase of Wyse last month, HP is looking to establish itself in the virtual PC market. To compliment its traditional desktop and laptop PC families, HP has launched the HP t410 All-in-One thin client. Using thin film technology developed by 3M, HP claims its thin client consumes just 13W, yet can illuminate the built-in 18.1" TFT monitor to the same brightness level as a laptop screen.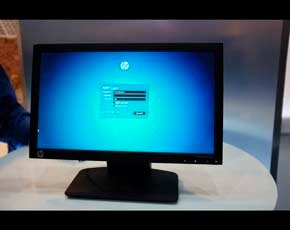 HP designed the t410 All-in-one to enable it to work with a single cable. An Ethernet cable that uses power-over-Ethernet (PoE) to deliver power and network connectivity from a PoE-equipped switch. It is based on an ARM processor with a Texas Instruments digital signal processor to support local computationally intense functions such as video playback. A small Linux kernel allows users to boot the t410 thin client into Citrix (ICA), VMware (PcoIP) or Microsoft (RDP) virtual desktop environments.
HP believes the $429 device, which is due to ship in August, could be deployed in education and applications such as communications centres for emergency relief efforts.
Touchscreens for vertical applications
Pre-empting the launch of Windows 8, HP used the Shanghai event to demonstrate how it was using touch-screen technology in specific industry areas. The company has introduced a line of capacitive touchscreen-based systems and monitors.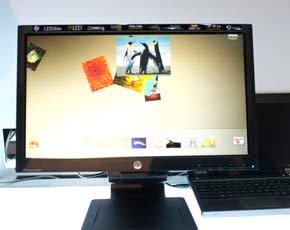 The HP RP7 all-in-one retail system is aimed at retail and hospitality environments such as fashion and electronics, department stores, hotels and restaurants. The HP L2206tm is a $279 touchscreen-enabled monitor, which has been deployed as room kiosks at Wynn Casino in the US and at the US Department of Motor Vehicles, to provide customer self-service. HP said touch-screen monitors and systems are also being deployed in healthcare.