ISPs may be allowed to choke illegal file-sharers
Internet service providers may be required to cut online access speeds for persistent online file-sharers, culture minister Andy Burnham indicated this week.
A...
Internet service providers may be required to cut online access speeds for persistent online file-sharers, culture minister Andy Burnham indicated this week.

Download this free guide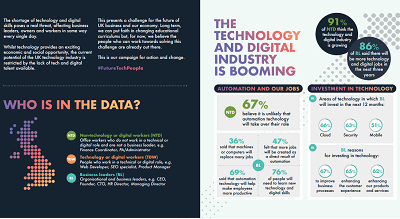 Infographic: How to future-proof UK technology
There is no doubt that the technology industry is booming right now, bringing with it exciting social and economic opportunities. However, there is a real fear that the UK industry may be stunted due to the lack of talent available. This e-guide helps to break down the future fears and expectations of dozens of business leaders and tech workers.
A departmental spokesman said the minister referred to "technical measures" to disrupt illegal file-sharing over the internet. Simply disconnecting them is not the government's preferred option, he said.
Speaking at a music industry event, Burnham all but ruled out the UK adoption of a French preference for a "three strikes and disconnect" rule to fight illegal file-sharers.
Burnham said the government's conclusions would be contained in the final Digital Britain report expected on 16 June. It would build on last year's Memorandum of Understanding negotiated between the five largest ISPs, the government and music publishers, he said.
A University College London report published by the Strategic Advisory Board for Intellectual Property (SABIP) found that, based on one file-sharing network, its 1.3 million users could easily consume £12bn worth of copyright content in a year. It found seven million Britons had downloaded copyright material. This is expected to increase as faster broadband access become pervasive, a key goal of the Digital Britain project.
Most ISPs have "fair use" policies that allow them to restrict the bandwidth available to users without notice. This already affects legal file-sharing, such as uploads of personal images to websites such as YouTube, Facebook and Picasa. It also affects Skype phone calls, which use peer-to-peer file-sharing technology to send and receive voice and video calls.
Music and video publishers have called for a three strikes law that would require ISPs to notify persistent offenders before taking down their websites and refusing their traffic. This provision is believed to be embodied in an international anti-counterfeiting trade agreement being negotiated in secret.
ISPs have objected to policing customers' use of the internet. They defend their position as a mere "conduit", saying publishers are trying to preserve an outdated business model.
Provisions in the Telecommunications Package now being thrashed out in the Europe Parliament says end-users should decide for themselves what content they want to send and receive, and how they want to do it, without prejudice to the need to preserve the integrity and security of networks and services.
"A competitive market should ensure that end-users are able to access and distribute any content and to use any applications and/or services of their choice," it said.
The provisions require ISPs to be explicit with any limitations on the use of the net. This should specify the type of content, application or service concerned, individual applications or services, or both.
Read more on IT legislation and regulation