Citigroup internal merger will deepen IT integration
Banking giant Citigroup is expected to announce the merger of two ofmajor business units as it gears up to increase cross-selling...
Banking giant Citigroup is expected to announce the merger of two ofmajor business units as it gears up to increase cross-selling opportunities.
According to the Financial Times the joining up of the bank's investment and corporate banking operations could be announced internally this week.

Download this free guide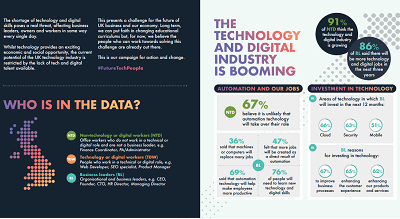 Infographic: How to future-proof UK technology
There is no doubt that the technology industry is booming right now, bringing with it exciting social and economic opportunities. However, there is a real fear that the UK industry may be stunted due to the lack of talent available. This e-guide helps to break down the future fears and expectations of dozens of business leaders and tech workers.
Jitz Desai, director at financial services think-tank JWG-IT, said Citigroup's investment and corporate business units have disparate IT operations. "They have operations all over the place but I would expect some IT, such as networks, to already be shared," he added.
He said the two operations are "distinct functions" and that linking them together would help them reduce risks. "The regulators expect banks to ensure they can get their funding correct."
In 2004 Citigroup created a global banking group but major parts of corporate and investment banking remained separate.
The firm recently announced 52,000 job cuts.Citigroup CEO Vikram Pandit revealed last month that the US bank would to cut its workforce across all businesses and geographies in the near future, with IT and operations expected to bear the brunt of the cuts.
This would represent 20% of its total employees. Pandit told the FT earlier this year that it was feasible for the bank to take 10%, 15% or 20% off its cost base, especially in IT and operations.
A Citigroup spokeswoman told Computer Weekly last month that half of the job cuts would come from the sale of business units. The company had earlier announced 18,000 job cuts when it sold its Global Services unit in India to Tata Consultancy Services for £300m.
Deeper technology integration will allow investment banking and corporate banking to improve customer relationships, saidto Bob McDowall, analyst at TowerGroup. He said this trend wouldincrease in the banking sector. "They are trying to get the technology integration deeper with the emphasis on customer relationships rather than deals." They can do this if the investment banking business has an insight into corporate customers' businesses.
McDowallsaid investment banks across the world will embark on similar strategies in 2009 as they become more focused on advice rather than deals.
Read more on IT efficiency and sustainability