Autonomic computing initiative in India could benefit SMBs
With a new center devoted to autonomic computing opening in India, IBM brings self-managing software to the growing ranks of SMBs in the region.
IBM is building its multibillion-dollar footprint in India with a new autonomic computing technology centre in Bangalore.

Big Blue is promoting the centre as more proof of its resolve to do business in one of the world's fastest-growing economies. The company announced last year that it will invest $6b in India by 2009. The new centre employs about 35 developers and engineers, who will work in conjunction with IBM laboratories in New Delhi and Bangalore, as well as IBM research facilities in North Carolina's Triangle Park and Toronto.

Download this free guide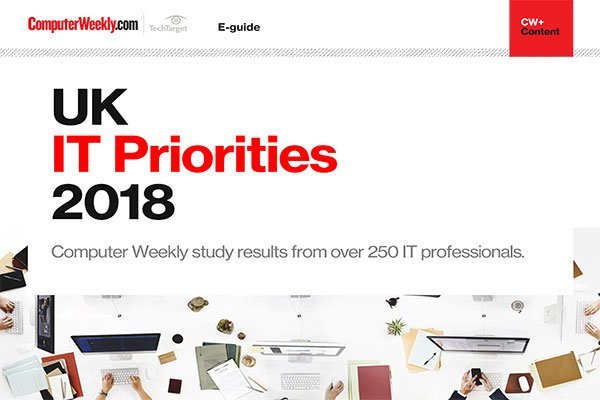 2018 UK IT Priorities survey results
IT organisations in the UK and across Europe are starting to accelerate the move to the cloud. Read more about the key areas in which senior IT managers are planning to invest in over the next 12 months.
It reflects a growing trend on IBM's part to be seen there as a good corporate citizen and that they want to take advantage of the current market situation there.
Richard Ptak
analystPtak, Noel & Associates
Analysts familiar with this latest IBM development in India say the new technology centre reflects IBM's determination to push autonomic computing globally. Autonomic computing technology is designed to make it easier for companies, including small and medium-sized businesses (SMBs), to utilize IT.

"There is a competition going on between IBM and Hewlett-Packard to establish their international credentials. I think it's getting more serious and aggressive as both of them start to compete more heavily against one another," said Richard Ptak, partner at Ptak, Noel & Associates in Amherst.

The quest makes sense. India's rapidly growing middle class has discretionary income and is educated, entrepreneurial and eager to embrace new technologies, Ptak said. "This is a big growth market for IT and IT services for consumers and businesses both."

IBM chairman and CEO Samuel Palmisano's high-visibility trip to India, joins other recent pilgrimages of other IT bosses from Microsoft's Bill Gates to Cisco Systems's John Chambers, underscores the interest in doing business there.

"The announcement was for 35 jobs for autonomic computing in India. It is not a whole lot, but it reflects a growing trend on IBM's part to be seen there as a good corporate citizen and that they want to take advantage of the current market situation there," Ptak said.

But the venture is more than a goodwill gesture. Autonomic computing, IBM's term for technologies designed to manage and heal themselves, is fairly complex, Ptak said. The decision to open a centre in Bangalore makes business sense. "The buyer tends to be more technical there, and interested in that. Having their development team there isn't going to hurt them at all," he said.

Promising investment for SMBs

Autonomic computing is also well suited to a growing economy and, in particular, a nation of SMBs because a self-managing, self-healing IT infrastructure will, in theory, free-up companies to focus on technology that gives them a competitive advantage. Autonomic computing makes the infrastructure more reliable, less risky and easier to apply, Ptak said, likening it to what Windows did for desktop computing.

"Windows, with all of its warts, even today, made it much easier for masses of people to use the computer, and that is what autonomics is about," Ptak said. "Now you could do autonomics development work anywhere in the world, but I think obviously Palmisano has an interest in India. I think the interest is driven by pure economics and the drive that India has to become a developed nation in the next 10 years."

Autonomic computing has been incorporated into IT hardware for a long time, said Julie Craig, an analyst at Boulder, Colorado-based Enterprise Management Associates. Autonomic computing in software is a more recent development, and IBM is not the only company doing it, she said. Microsoft, with its Dynamic System Initiative, HP and others have variations of it.

"IBM mainframes, HP mainframes, storage area networks, all hardware systems have basically for years been able to do this. They watch their own health, if a component starts to fail, they can actually call IBM or HP and the service man walks in the door with the part before anybody knows it's bad," Craig said. "What's happening now with this autonomic focus is that vendors are extending it to software, and particularly to management software, and that is where things get complex because software is difficult to develop."

What is new and different about the IBM announcement, beyond the ribbon-cutting value, Craig said, is the concentration on autonomic computing. "I have not heard of other vendors making an investment in a specific autonomic centre which focuses on software," she said.

This is important because the field is still in the early stages. Much will depend on vendors to work together to develop standards, but autonomic technology will become more and more a part of IT systems. Craig said she expects adoption to increase in the next five to 10 years, and even be pushed by users who will make it a standard item on their requests for proposals.

"Small business are going to reap the same benefits as larger businesses do, as vendors incorporate more and more of this into their technology," Craig said.

IBM targets JBoss users with free Linux tool

SMB's worldwide stymied by uncertain economy
Read more on IT for small and medium-sized enterprises (SME)