Sun and Intel form strategic alliance
In a move that has sparked intense debate, Sun Microsystems and Intel have announced a broad strategic alliance.
In a move that has sparked intense debate, Sun Microsystems and Intel have announced a broad strategic alliance.
The venture is centred on Intel's endorsement of the Solaris operating system and Sun's commitment to deliver a comprehensive family of enterprise servers and workstations based on Intel's Xeon processors.

Download this free guide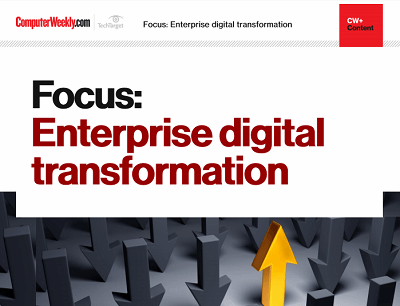 Are you digital to the transformation?
Digital transformation - the buzzword that we can't get away from. Enterprises need to accelerate their digital transformation journeys to avoid being left behind in an increasingly digital world. It's not an easy feat, but one that can be costly to get wrong. Join us as Computer Weekly takes a look at how businesses can stay on track through collaboration, innovation, and listening to user needs.
By submitting your personal information, you agree that TechTarget and its partners may contact you regarding relevant content, products and special offers.
You also agree that your personal information may be transferred and processed in the United States, and that you have read and agree to the Terms of Use and the Privacy Policy.
The alliance also includes joint engineering, design and marketing efforts as well as other Intel and Sun enterprise-class technologies.
As part of the announcement, Intel has declared its support for Solaris as a mainstream OS and the enterprise class, mission-critical Unix OS for Intel Xeon processor-based servers.
Intel also now endorses Sun's Solaris, Java and NetBeans products and will actively support the OpenSolaris and open Java communities from which they continue to evolve.
For its reciprocal part, Sun is to complement its current offerings with Intel-based systems such as uni-, dual- and multi-processor based servers and workstations supporting Solaris, Windows and Linux.
Intel and Sun will also collaborate around greater than four processor scale-up Solaris-optimised systems. Sun expects platforms based on Intel architecture optimised for Solaris to be unveiled in the first half of 2007.
Sun believes Intel's model of alternating new microarchitectures with new process technologies on an annual basis will offer "outstanding" building blocks for its customers.
This move will surely cause a storm. Teaming up so strongly with Intel will surely drive Solaris adoption, a long term strategic goal for Sun.
More interestingly, it will also drive Xeon-based systems up the server value chain to datacentres and other high-performance environments currently dominated by IBM and HP with its range of servers powered by the Itanium chip it co-developed with, er, Intel. Has a gauntlet been thrown down by someone?
Comment on this article: computer.weekly@rbi.co.uk
Read more on Operating systems software