European server market shrinks in first quarter
The server market in Europe has shrunk, with the value of shipments falling compared to last year.
The server market in Europe has shrunk, with the value of shipments falling compared to last year.
Server shipments in Europe, the Middle East and Africa (EMEA) suffered a year-on-year factory revenue decline of 4.3% in the first quarter of 2006, according to analyst firm IDC.

Download this free guide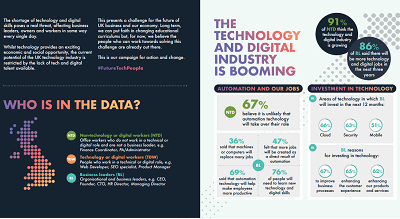 Infographic: How to future-proof UK technology
There is no doubt that the technology industry is booming right now, bringing with it exciting social and economic opportunities. However, there is a real fear that the UK industry may be stunted due to the lack of talent available. This e-guide helps to break down the future fears and expectations of dozens of business leaders and tech workers.
Sales of servers in EMEA totalled £2.23bn in the first quarter of the year, down from £2.6bn in the same quarter last year.
Shipments also declined by 8.8% year-on-year, reaching 567,660 units, compared to the record 676,849 units shipped in the same quarter a year ago.
"The data confirms that there is a trend towards the commoditisation of the server market, with lower prices resulting in smaller profit margins," said IDC analyst Beatriz Valle.
"Volume systems are offering improvements in performance and scalability, becoming a viable option for a wider range of vertical markets.
"Companies are modifying their IT spending patterns, as technological improvements make it possible to strategically plan server purchases to address specific business needs, and to enhance existing hardware rather than buying new systems."
IDC said that HP gained the lead position in the EMEA server market from IBM in the first quarter. HP's revenue totalled £700m, and IBM's was £600m.
Sun Microsystems was third in revenue terms, with £216m, recording a decline of 1.5% from a year ago, followed by Fujitsu Siemens.
But Dell generated revenue growth, narrowing the gap with Fujitsu Siemens this quarter.