IBM names server blade magnificent seven
There are seven big advantages of deploying blade servers, says IBM's BladeCenter and xSeries Servers division.
There are seven big advantages of deploying blade servers, says IBM's BladeCenter and xSeries Servers division.
Tom Bradicich, the division's Chief Technology Officer, says IBM is embarking on a campaign to make more popular the news that server blades can provide business benefits in term of space and money.

Download this free guide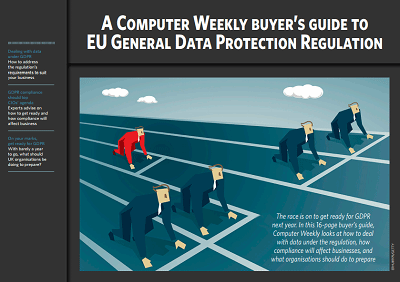 Computer Weekly's Buyer's Guide to GDPR
The race is on to get ready for GDPR next year. Computer Weekly looks at how to deal with data under the regulation, how compliance will affect businesses, and what organisations should do to prepare.
To this end Mr Bradicich has constructed a list of seven key advantages that firms who deploy server blades can expect. These include: higher computing density; fewer cables; infrastructure integration; improved reliability, availability, and serviceability; flexible function and technologies.
Because blades and modules use the space inside their chassis very efficiently, more computing power fits into the same physical space. Furthermore, blade server nodes can share many other components, such as chassis frames, power supplies and fans. As a result, adding additional computing power is often cheaper than with traditional servers because there's no need for more support components. In effect, the cost of those components is amortized across all the nodes.
With traditional servers, more units equals lots more cables for power, management, networking and other functions; this is not the case with blade servers. Also, because blade servers are in theory simpler to put together and use fewer chassis and less mounting hardware, they should simplify server management.
IBM will also be advertising the fact that in contrast to traditional rack-mounted servers, a server blade node can be replaced without tools to manipulate mounting hardware and without removing cables. It will stress that with replaceable processor blades and other modules, such as network routers, SAN switches, and power suppliers, blade server customers can add new and alternative technologies without replacing the entire server system.

Read more on Server hardware