National Audit Office reveals crisis caused by weaknesses in core Revenue IT systems
Public spending watchdog the National Audit Office published the results of one of its most in-depth examinations of the affairs of the Inland Revenue last week.
Public spending watchdog the National Audit Office published the results of one of its most in-depth examinations of the affairs of the Inland Revenue last week.

Download this free guide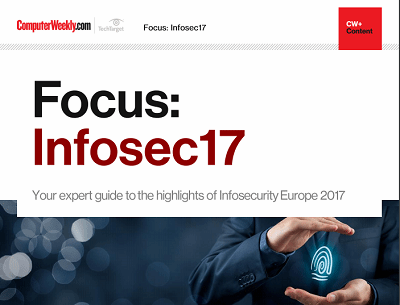 From forensic cyber to encryption: InfoSec17
Security technologist Bruce Schneier's insights and warnings around the regulation of IoT security and forensic cyber psychologist Mary Aiken's comments around the tensions between encryption and state security were the top highlights of the keynote presentations at Infosecurity Europe 2017 in London.
By submitting your personal information, you agree that TechTarget and its partners may contact you regarding relevant content, products and special offers.
You also agree that your personal information may be transferred and processed in the United States, and that you have read and agree to the Terms of Use and the Privacy Policy.
It revealed more starkly than any previous investigation the crisis facing the nation's second-biggest Whitehall department.
The Revenue collects and disburses £388bn a year but the NAO report highlights not just weaknesses in core systems and processes but also a lack of management information, which would be needed to help put things right.
The department is grappling with a tax credits system that MPs and the public have inveighed against. The PAYE system is blighted by problems and there are serious difficulties with tax repayment systems and the data held in national insurance systems.
The Revenue has been forced to redeploy staff from clearing backlogs to fire fight emerging problems. But this has only compounded the difficulties that must be overcome.
At the same time, the organisation is in the midst of one of the biggest ever mergers in government, combining with Customs to form HM Revenue and Customs (HMRC).
The new organisation will have to grapple with demands for a reduction of 12,500 staff from its 98,000 payroll and £500m savings from its £4.6bn running costs by April 2008.
In his report, comptroller and auditor general of the UK John Bourn said, "It is important that staff reductions do not adversely affect service provision and the department's capacity to deliver the new IT systems underpinning intended efficiency gain."
The NAO report released last week shows the challenge facing HMRC:
Tax credits
The tax credits system was so subject to error and fraud that Bourn refused to endorse the accounts of HMRC.
Problems with the systems meant HMRC expected to write off about more than £1bn in tax credits, the NAO noted.
Fraud and error remained "unacceptably high in both the amount and percentage terms".
HMRC has evidence that tax credits have been targeted by organised criminals, but, "The department's internal audit office concluded that there was a lack of comprehensive information to allow a robust analysis of the problem."
The department's special compliance office planned to investigate all fraudulent claims over £1,500 but "there were too many such cases for them to deal with".
Nearly two million families each received average overpayments of £1,000. Software errors resulted in overpayments calculated as £94m in 2003/2004, £37m of which the department had written off.
Additional software and other errors led to further overpayments of about £80m and hit 88,000 households. The largest individual overpayment was over £20,000. The department is attempting to recover these sums.
Software failings meant the department could not access and set up some tax credits awards or make automated payments. In these cases it resorted to making temporary manual payments.
About 500,000 manual cheque payments totalling £170m were made. The NAO reported that the supporting documentation was inadequately completed in some cases. "In 2004/2005 the department wrote off £33m because its records were not good enough to cost-effectively match them to claimants," said the NAO.
In some cases claimants received multiple notices of their tax credit entitlements each containing different amounts, or tax credits were paid to the wrong bank accounts.
PAYE
PAYE, the main system collecting income tax and national insurance from employers, is subject to "significant and widespread error" according to the NAO.
There is no single system that provides an overview of a taxpayers' dealings with the department - and the different systems that exist do not adequately talk to each other, said the audit office. PAYE processes date back 60 years.
Internal HMRC auditors estimated that about £575m a year of tax due had not been pursued by the department, and that taxpayers were not being advised of about £295m a year they might be owed. This could mean that 3.8 million taxpayers have paid too much or too little tax, said the NAO. This number represents about one in six of all PAYE taxpayers.
But this is by no means was the full extent of the uncertainty. The NAO said HMRC "considered it highly likely that there was additional tax at risk that had not been identified".
Other PAYE weaknesses identified by the audit office included:
Inadequate management information systems to help managers assess the risks to the business of various operations and the PAYE business
Poor-quality data throughout the system, inadequate controls, and inconsistent approaches
High volumes of paperwork, which have led to difficulties in managing and monitoring work volumes, backlogs of work, progress made and the impact of work done and work not completed.
Failure to effectively address some employers' non-compliance with their obligations
The department not pursuing some PAYE revenue due from an individual while pursuing tax credits recoveries
The possibility that some tax credit recipients are asked to refund overpayments at the same time as the department retained PAYE refunds due.
The department has also had particular difficulties trying to modernise PAYE systems. A project called Modernising PAYE Processes for Customers was established in 2003 to change business processes, deliver more flexible IT systems and support employers that file returns online.
But the NAO said, "The scope of the project was reduced in the summer of 2005." This limited one of the major benefits originally expected - to reduce the department's workload and help clear backlogs of open or unresolved cases. Computer Weekly understands that the project ran into technical and other difficulties.
National insurance
The department was unsure how much it was owed on national insurance and had removed about £616m of debts from the systems. Money owing on national insurance is not fully integrated into the department's systems.
At the end of 2004/2005 the debt recorded stood at £1.2bn, but £616m of this was over six years old and so was too old to be collected.
Repayments of tax
The department is introducing a system for repaying all tax overpayments, but problems with its development have meant it is only being used to repay tax credits, with the old system still in use. The NAO noted, "The department had no plans to move repayments to PMF [the new system] and no timetable had been set for replacement of the old system."
A lack of management information has also added to uncertainties about how much tax should be repaid. The NAO said, "The deficiencies in management information and lack of formalised, specific accountabilities made it difficult for the department to ensure the proper control of repayments and to prevent or detect error and irregularities."
Internal assessors have identified a serious risk of tax repayments being duplicated.
Read more on IT risk management