BT offers major concessions to competitors
BT is planning to ensure its rival telecoms operators have equal access to its networks in future.
BT is planning to ensure its rival telecoms operators have equal access to its networks in future.
It intends to set up a separate communications access company that will deliver a fair access deal its competitors in a move which is part of an attempt to reach a permanent settlement with the telecoms regulator Ofcom.

Download this free guide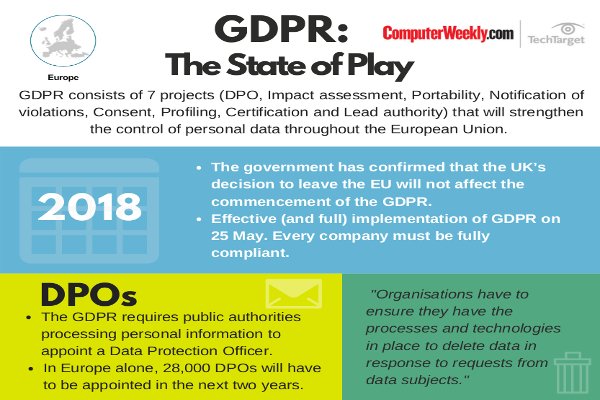 Infographic: GDPR - The State of Play
Get the latest information on how GDPR is going to affect your business and how to avoid any unwanted fines with this simple infographic.
By submitting your personal information, you agree that TechTarget and its partners may contact you regarding relevant content, products and special offers.
You also agree that your personal information may be transferred and processed in the United States, and that you have read and agree to the Terms of Use and the Privacy Policy.
BT made the announcement as part of its response to Ofcom's ongoing strategic review of the UK telecommunications industry. But analysts said competitors would suspend judgement until they see detail of BT's plans.
Key proposals from BT include:
setting up an access services division to provide transparent and equal access to BT's network,
setting out access ground rules for its new 21st Century Network,
cutting a range of wholesale broadband prices and introducing faster services,
re-affirming commitment to local loop unbundling (LLU) and proposing a further price cut to LLU charges to competitors,
Increasing the commercial attractiveness of wholesale line rental (WLR).
Tony Lavender, an analyst at Ovum, said, "The overriding impression of the package is that BT has given a lot of ground at this stage of the review process. I cannot recall another instance where BT has gone so far before any regulatory intervention."
"The big question now is whether the industry and particularly Ofcom feel BT's proposals go far enough. Or that the proposals can be implemented in a way that re-assures other players," he added.
Ofcom will make its final proposals for delivering fair access in the middle of the year. It has not ruled out activating the Enterprise Act against BT, which could lead to the company being split.
Read more on IT legislation and regulation