HP steps up moves to standardise on 64-bit servers with Itanium
Hewlett-Packard has taken the next step in its strategy to standardise on Intel's 64-bit Itanium processor with the introduction...
Hewlett-Packard has taken the next step in its strategy to standardise on Intel's 64-bit Itanium processor with the introduction of an Itanium version of its main operating systems.

HP's strategy is to provide the 64-bit processor on servers using HP-UX, its Unix operating system, and Linux and Windows operating systems.

Itanium is considered by many experts to be the next step in the evolution of the PC server towards 64-bit datacentre computing. The Itanium processor will allow users to run more powerful datacentre applications, offering higher performance to process greater amounts of data.

However, most users and suppliers still favour 32-bit servers based on the Intel Xeon processor. Even at HP, which is pushing Itanium, 85% of servers sold use the 32-bit Xeon technology.

Unlike Microsoft, which is limiting support of Itanium to high-end version of the Windows operating system, HP plans to offer Itanium across four operating systems and its entire server range, eventually replacing mainstream servers running 32-bit Xeon processors altogether.

Rudi Schmickl, vice-president and general manager HP EMEA, said users should move legacy applications onto standard platforms based on Itanium to reduce maintenance costs. "Itanium is a good catalyst for change," he said.

HP has begun migrating users off its proprietary Alpha (Alphaserver) and PA-Risc (HP 9000) processors onto Itanium-based hardware.

Itanium is already available on some high-end HP servers - its Itanium-based Superdome family runs the HP-UX Unix operating system.

With the introduction last week of the high-end OpenVMS 8.2 operating system for Itanium, users who run legacy OpenVMS applications can begin their migration onto HP's Itanium-based Integrity server family.

By mid-2005 users of its Nonstop high availability servers will be able to run on Itanium.

However, even though it ships 32-bit Xeon servers equipped with extended memory technology and Intel's hybrid 64/32-bit processor, HP is scaling back investment in these products and is no longer producing eight-processor Xeon servers.

Over the next few years, users of HP hardware may find that the price/performance of 32-bit servers is eroded, making an upgrade to 64-bit technology inevitable, analysts believe.

Download this free guide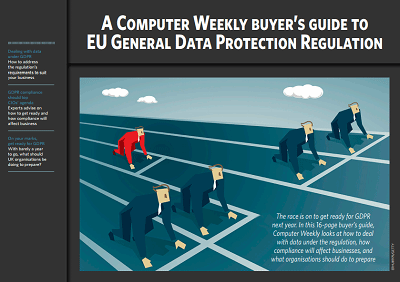 Computer Weekly's Buyer's Guide to GDPR
The race is on to get ready for GDPR next year. Computer Weekly looks at how to deal with data under the regulation, how compliance will affect businesses, and what organisations should do to prepare.
Read more on Server hardware