Microsoft to appeal to Eolas patent ruling
A panel of judges are scheduled to hear Microsoft's appeal in a case where a jury ordered the software maker to pay $520.6m...
A panel of judges are scheduled to hear Microsoft's appeal in a case where a jury ordered the software maker to pay $520.6m (£267m) in damages after finding that Internet Explorer (IE) infringed on a patent.

Download this free guide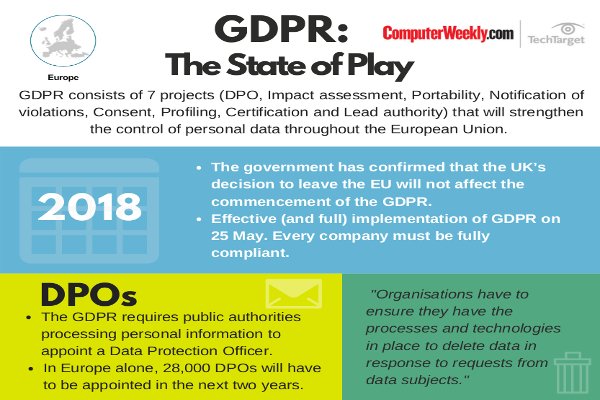 Infographic: GDPR - The State of Play
Get the latest information on how GDPR is going to affect your business and how to avoid any unwanted fines with this simple infographic.
By submitting your personal information, you agree that TechTarget and its partners may contact you regarding relevant content, products and special offers.
You also agree that your personal information may be transferred and processed in the United States, and that you have read and agree to the Terms of Use and the Privacy Policy.
In the case, Eolas Technologies and the University of California accused Microsoft of improperly including technology in the IE web browser that allows interactive content to be embedded in a website, a common practice on the internet. Eolas sued Microsoft in 1999; the university later joined the suit.
In August last year a jury ruled against Microsoft and ordered the company to pay $520.6m in damages. Judge James Zagel upheld the jury verdict in January.
The ruling triggered an outcry from experts, who argued that the patent should be invalid because of prior art, or examples of the technology's use before the patent was issued. Tim Berners-Lee, director of the World Wide Web Consortium (W3C), urged the US Under Secretary of Commerce for Intellectual Property to invalidate the patent.
The US Patent and Trademark Office (USPTO) late last year agreed to re-examine the patent and in March rejected it. The University of California, holder of the patent, is appealing that decision.
With the process at the USPTO still underway, the US Court of Appeals for the Federal Circuit in Washington DC is scheduled to hear the Eolas case. Microsoft plans to question the validity of the patent, spokesman Jim Desler said.
"One of our main points is going to be over the question of the validity of the patent and that the jury was prevented from hearing and considering evidence during the course of the trial," Desler said.
The University of California and Eolas are confident of their case, said Trey Davis, director of special projects and new media for the university.
"The patent was appropriately issued to the university and consistent with the jury's finding that Microsoft infringed upon the patent, Microsoft owes us in excess of half a billion dollars," Davis said.
The University of California was issued the 5,838,906 patent in November 1998. The technology covered in the patent was developed by researcher Michael Doyle, who went on to found Eolas.
The patent describes in part "a system allowing a user of a browser program ... to access and execute an embedded program object". Eolas has exclusive rights to use and license the patent.
Joris Evers writes for IDG News Service
Read more on IT legislation and regulation