EU biometric IDs on track
The European Union is on track to begin including biometric identifiers in the passports issued by its member nations .
The European Union is on track to begin including biometric identifiers in the passports issued by its member nations .
By 2008 the biometric data is also expected to include fingerprints, although EU officials are debating whether fingerprint data should be made obligatory.

Download this free guide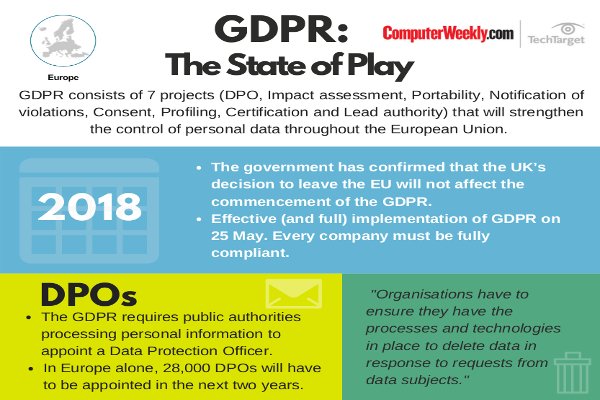 Infographic: GDPR - The State of Play
Get the latest information on how GDPR is going to affect your business and how to avoid any unwanted fines with this simple infographic.
By submitting your personal information, you agree that TechTarget and its partners may contact you regarding relevant content, products and special offers.
You also agree that your personal information may be transferred and processed in the United States, and that you have read and agree to the Terms of Use and the Privacy Policy.
The European Parliament has approved a report issued by the European Commission which calls for the regulation of standards for security features and biometrics in EU passports.
The Coelho report is the basis for the regulation, which seeks to make the use of a facial image in passports obligatory.
It allows the member states to choose whether or not to introduce biometric fingerprints.
The report was adopted after 471 MEPs voted for it, according to Danny De Paepe, spokesman for the European Parliament's Civil Liberties, Justice and Home Affairs Committee on Commission proposals. Only 118 MEPs voted against and six abstained.
The Council of Ministers, though, is trying to make fingerprints in passports obligatory.
The legislation is expected to reach an EU committee in January, where members will have about two months to hammer out the details of its implementation.
Once the committee completes its work, member states will be given 18 months before they must begin using facial images in passports, and 36 months until biometric fingerprints come into play.
Member states will be able to use a digitised version of a facial image or a biometric facial scan consisting of 1,840 plot points on a person's face. That technology is more expensive and labour-intensive to obtain, but contains more information.
Because it is a regulation, and not a directive, the law would not affect the UK and Ireland, although the UK government has already decided to require biometric facial identifiers in passports issued from in 2005.
One of the major drivers of the regulation is the US biometric authentication requirement in its Enhanced Border Security and Visa Entry Reform Act of 2002.
This requires the 27 nations currently participating in the US Visa Waiver Program to issue new passports with biometric features that support facial recognition by October 2005.
The UK government expects the US to push back the 2005 deadline as additional time is needed, in part, to make sure data protection requirements are considered.
"The US government has been pressing hard on this, although it has no intention of requiring biometrics in the passports of its own citizens," said Tony Bunyan, of UK-based European civil liberties group Statewatch.
De Paepe agreed that while pressure from the US was a factor, the primary reason behind the regulation is concern for the security of citizens living in the EU member states.
The European Commission already produced draft regulations to introduce, by 2005, biometric data on visas and resident permits for non-EU nationals.
That information would be stored on national and EU databases that will be accessible through the Visa Information System held on the Schengen Information System.
The European Parliament is opposed to establishing a central database of EU passports and travel documents containing all EU passport holders' biometric and other data.
Laura Rohde writes for IDG News Service

Read more on IT legislation and regulation