Consumers may dictate future of datacentres
Today's teenagers could have more influence than seasoned IT buyers on tomorrow's datacentre technologies, according to Gartner's...
Today's teenagers could have more influence than seasoned IT buyers on tomorrow's datacentre technologies, according to Gartner's global head of research, Peter Sondergaard.

Download this free guide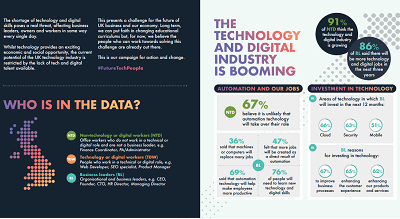 Infographic: Future-proofing UK technology
The current potential of the UK technology industry is restricted by the lack of tech and digital talent available. Read through this challenge for the future of UK business and our economy.
That is because digital music players and games consoles are becoming more sophisticated - and component manufacturers are starting to focus their attention on this growing market, said Sondergaard at the Symposium/ITxpo conference and show in Cannes.
Sondergaard went on to explain how IT departments must adopt a services-oriented architecture to remain competitive.
"We see big changes coming in software, services, operations and hardware... driven by big changes in consumer IT," Sondergaard said.
The semiconductor content of consumer electronics devices will outweigh that of business systems, and consumers will buy the majority of hard discs, he predicted.
By 2013, there will be 200 billion microprocessors in operation - but only a small proportion of those will affect the datacentre, he said.
For future performance increases, businesses had better look to virtualisation as a way of meeting variation in demand, and with that change their major challenge will become managing service levels, not hardware.
That, in turn, will have an impact on software licensing, because in the virtualised datacentre, pricing applications by the number of processors they run on will cease to be meaningful.
The way businesses work will also be caught up in the wave of change, Sondergaard said. As IT staff increasingly purchase datacentre operations as a service, they need to have a better understanding of business processes, he said.
Many chief executive officers believe IT is holding their business back, said Howard Dresner, a Gartner vice-president and research fellow.
One reason for this is that businesses are increasingly focusing on horizontal processes linking departments, while IT systems are still structured vertically, within departments.
The key to changing this is a services-oriented architecture, such as applications built from smaller software components providing services, and linked together to form a large whole, he said.
"Component architecture is nothing new. It started with Fortran libraries. The difference this time is that the services are truly independent , so you can take one from one vendor and mix it with another from someone else," said Jeff Comport, a vice-president and analyst at Gartner.
In the future, software will become a portfolio of capabilities rather than a list of applications, he said.
IT departments will have to reinvent themselves, according Frank Buytendijk, a research vice-president at Gartner.
The more businesses break applications up into small components, the harder IT departments will have to think about how to link them together again.
On the other hand, it could put a welcome end to mammoth multiyear projects: IT departments will still have to think big, but they will be able to implement incrementally, he said.
Peter Sayer writes for IDG News Service