Home digital storage gets a boost
Storage and graphics chip-maker Silicon Image has unveiled a new storage appliance that could make catastrophic hard drive...
Storage and graphics chip-maker Silicon Image has unveiled a new storage appliance that could make catastrophic hard drive failures a thing of the past for home and small business users.

Download this free guide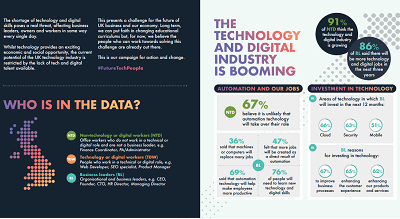 Infographic: Future-proofing UK technology
The current potential of the UK technology industry is restricted by the lack of tech and digital talent available. Read through this challenge for the future of UK business and our economy.
By submitting your personal information, you agree that TechTarget and its partners may contact you regarding relevant content, products and special offers.
You also agree that your personal information may be transferred and processed in the United States, and that you have read and agree to the Terms of Use and the Privacy Policy.
The technology behind the appliance could also eventually be used to make consumer storage devices such as TiVo's digital video recorder more reliable and capable of storing much more data, the company said.
In December, Silicon Image will begin offering a storage appliance with five Serial ATA (advanced technology attachment) hard drives, which will be sold through a "qualified" group of value added resellers.
Called the SV2000, the appliance will use a custom-designed microprocessor to connect and manage the system's storage, which is in a Raid (redundant array of inexpensive discs) configuration.
Raid systems store data on more than one disc, automatically backing it up and making it possible to replace a failed disc without shutting the storage system down. They are widely used in larger commercial settings, but have typically been too expensive and difficult to configure for home and small business users.
Silicon Image hopes to reduce the complexity commonly associated with Raid storage devices by embedding much of the storage device's configuration settings within the system's firmware.
Users will not have the ability to configure the SV2000 themselves, but the storage appliances will be easier to use and will cost less as well, said Steve Tirado, president of Silicon Image's storage division.
"You don't have all the buttons and dials to go in and do different things, but what we've found is that for many applications, people don't want the flexibility," he said.
The systems will support Raid 0, Raid 1 and Raid 10 storage, Silicon Image said.
With a suggested retail price of $3,295 (£1,832) for an array with 1Tbyte of storage, the SV2000 will cost significantly less than most Raid systems, Tirado said.
Still, $3,000 is more than most home users are willing to pay, even for 1Tbytes of storage, and the Silicon Image appliance will initially appeal only to businesses or high-end consumers, said Rob Enderle, principal analyst with the Enderle Group.
"It's cutting edge," he said. "It certainly is interesting for the right kind of environment."
However the technology "is not really mainstream yet and won't be until it's picked up by a true storage supplier and marketed in this space", he said.
As consumers store more and more of their own digital images and videos on hard drives, they will become less and less tolerant of hard drive failures, Tirado said.
He suggested that mainstream storage suppliers could eventually use Silicon Image's technology to build additional storage for personal digital media or for video recording devices like TiVo.
"Now all of a sudden these digital media applications can get to reliable storage cheaply," he said.
Being able to store data on hard drives that are automatically backed up is becoming more important, Tirado said.
"This is a serious problem... because consumer electronics customers aren't used to the mediocre technology experience that we all know and love in the PC market."
Robert McMillan writes for IDG News Service