IBM seeks to block lawsuit by Gypsies
IBM has moved to block a lawsuit by a group of European Gypsies for allegedly allowing its punch-card machines to be used by...
IBM has moved to block a lawsuit by a group of European Gypsies for allegedly allowing its punch-card machines to be used by World War II Nazis to commit genocide more efficiently.

Download this free guide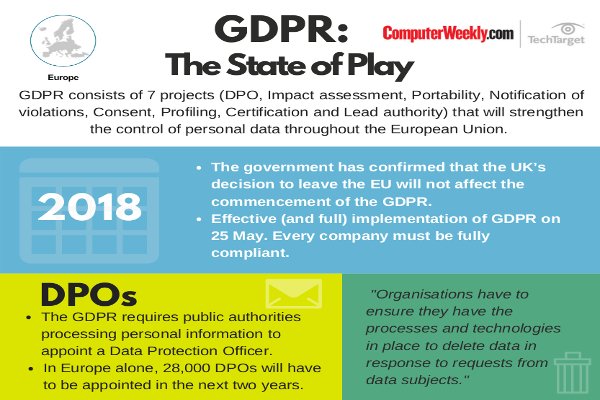 Infographic: GDPR - The State of Play
Get the latest information on how GDPR is going to affect your business and how to avoid any unwanted fines with this simple infographic.
By submitting your personal information, you agree that TechTarget and its partners may contact you regarding relevant content, products and special offers.
You also agree that your personal information may be transferred and processed in the United States, and that you have read and agree to the Terms of Use and the Privacy Policy.
On 20 August, the US computer giant appealed the case to the Swiss Federal High Court, the country's highest judicial body.
An IBM spokesman confirmed the legal action but declined to comment on pending litigation.
IBM has good reason to be tight-lipped about the lawsuit: substantial compensation and the image of a US industry icon may hinge on the decision of the Swiss court.
The group of Gypsies, called the Gypsy International Recognition and Compensation Action (GIRCA), is seeking up to $12bn (£6.7bn) in collective damages.
But the legal process has been long and arduous, and its outcome is still anything but certain.
"If the Federal High Court overrules an earlier decision by the Geneva appeals court, the case is over," said the group's lawyer, Henri-Philippe Sambuc.
"If it doesn't overrule the decision, then the case moves back to the First Instance Court. This could result in years of litigation."
In June, the Geneva Court of Appeal overruled the city's First Instance Court, which a year earlier had dropped GIRCA's case against IBM. The lower First Instance Court said the US computer company had only a small office in the city, and decided not to hear the case.
But in its ruling, the appeals court cited a "significant" body of evidence showing that IBM had a major office in Geneva and that this office could have been aware it was assisting criminal acts of the Nazis.
From the start, GIRCA has argued that IBM had a non-registered operation in Geneva, called International Business Machines Corporation New York, European Headquarters, and that this organisation is well documented in the book "IBM and the Holocaust; The Strategic Alliance Between Nazi Germany and America's Most Powerful Corporation" by Edwin Black.
In his book, Black said that IBM - through its German subsidiary, Deutsche Hollerith Maschinen GmbH (Dehomag) - provided the punch-card data processing systems that allowed Nazis to categorise and track concentration camp victims, who were mostly Jews, and that the US company was aware of how its equipment was being used.
John Blau writes for IDG News Service
Read more on IT legislation and regulation