EMC rolls out lower-end Nas
EMC has unveiled a low-cost series of network attached storage (Nas) devices, as well as enhanced iSCSI support and beefed up...
EMC has unveiled a low-cost series of network attached storage (Nas) devices, as well as enhanced iSCSI support and beefed up storage management capabilities.

Download this free guide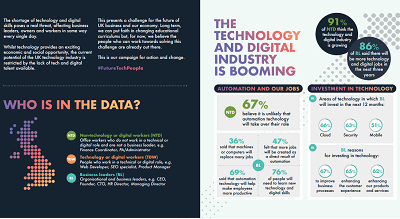 Infographic: How to future-proof UK technology
There is no doubt that the technology industry is booming right now, bringing with it exciting social and economic opportunities. However, there is a real fear that the UK industry may be stunted due to the lack of talent available. This e-guide helps to break down the future fears and expectations of dozens of business leaders and tech workers.
The Nas line, the Celerra NS500, starts at $40,000 (£22,250) - a new low for EMC. The price tag includes 1TBytes of storage, a single data mover, Common Internet File System support and EMC's SnapSure replication software.
The NS500 is also available with two data movers for $81,000. Customers who purchase one data mover initially and later wish to upgrade, can add the second data mover with no disruptions, noted Tom Joyce, senior director of Nas marketing for EMC.
EMC also released a gateway version of the NS500 called the NS500G. The NS500 is targeted at small and medium businesses that cannot afford higher-end systems, Joyce said.
EMC also offered up a gateway version of its NS700 series, designed for larger customers. Called the NS704G, the system can have up to four data movers, with either three in active mode and one in failover mode, or two in active and two in failover.
The NS704G starts at $165,000.
"It really is for customers that have a lot of storage behind it and can keep those processers and that I/O busy," Joyce said.
In addition to the new Nas models, EMC introduced a new version of its Dart operating environment that includes iSCSI support. This allows EMC customers to deliver CIFS, NFS and iSCSI, for block storage transfers, within one integrated Nas system.
"Customers could use that feature for Exchange," Joyce said. "They haven't wanted to do Exchange over Nas in the past, because they wanted to do Exchange over block. Now they can do it all on a single platform."
Finally EMC has released a basic version of its Celerra Manager. Celerra Manager Basic Edition gives customers quick views of statistics such as CPU usage, network device throughput and file system throughput.
Lorie Beam, director of information technology for law firm Smith Anderson, uses an EMC Nas gateway to connect to a San.
"We chose the Nas gateway, because it wasn't over the top for our needs, but it also wasn't a bargain-basement product."
Beam, who currently uses a NS600 gateway, does not plan to upgrade any time soon but said she is interested in looking at the GUI changes.
Michael Martin writes for ITWorldCanada.com