Veritas unveils Storage Replicator 3.0
Veritas Software has announced the availability of Veritas Storage Replicator 3.0, software designed to protect remote office...
Veritas Software has announced the availability of Veritas Storage Replicator 3.0, software designed to protect remote office data through real-time data replication.

Download this free guide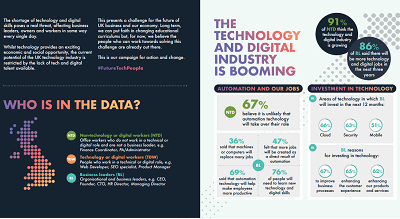 Infographic: Future-proofing UK technology
The current potential of the UK technology industry is restricted by the lack of tech and digital talent available. Read through this challenge for the future of UK business and our economy.
By submitting your personal information, you agree that TechTarget and its partners may contact you regarding relevant content, products and special offers.
You also agree that your personal information may be transferred and processed in the United States, and that you have read and agree to the Terms of Use and the Privacy Policy.
As organisations continue to grow, the risks increase that their business-critical remote office data may go unprotected. Veritas Storage Replicator aims to enable organisations to centralise backup, without disrupting normal server operations, and to help to cut costs by eliminating the need to invest in remote office administrators and hardware.
Claimed to be integral to the company's utility computing strategy to help ensure that data and applications are highly available, Veritas Storage Replicator software is designed to replicate efficiently remote office data over an IP connection, either continuously or on a scheduled basis, to a central location, where it can be reliably backed up and stored.
In 2003, the server-based replication market grew by just under 50%, signalling the importance of data recovery for ICT enterprises.
Remote replication will increasingly be deployed, aiming to provide faster recovery of information assets in the event of a disaster.
Veritas Storage Replicator technology is designed to help to reduce the amount of data exposed to loss, as well as cut costs by negating the need for tape drives, media and backup administrators at remote locations.
Key benefits of Veritas Storage Replicator 3.0 are said to include:
Ease-of-use: Storage Replicator aims to provide the ability to replicate and access data immediately through the same Windows-based graphical user interface (GUI) as Veritas Backup Exec. Storage Replicator offers centralised management, reporting capabilities and wizard-based installation, ensuring that critical data is easily protected and accessible at all times. Once replication technology is installed, there is virtually no management overhead required, reducing the complexity associated with protecting remote office data.

Minimal bandwidth utilisation: Primary concerns for remote office data protection include tight ICT budgets and limited hardware and network capacity. Storage Replicator aims to protect the remote office data during network outages, and to allow administrators to replicate only changed blocks within a file, and to choose the amount of bandwidth allocated to each replication procedure, aiming to ensure bandwidth availability for normal business operations between offices. In addition, organisations can schedule their replication jobs during off-peak hours to maximise network resources.

Extensive flexibility: As organisations face the inevitable growth of data, they need powerful, flexible and scalable methods to manage and protect their organisation data. Veritas Storage Replicator aims to provide the ability to replicate vast amounts of data simultaneously from multiple locations to minimise the risk of losing that critical data. In the event that data is deleted, organisations can quickly and easily restore files over the wire.
"In today's ICT climate, organisations are faced with delivering higher levels of protection for their growing business-critical data in the most cost-efficient way," said Nick Morkot, system engineer at Veritas Software.
"Veritas Storage Replicator provides an easy-to-use interface, while enabling organisations to protect data without incurring the cost of remote staff and additional hardware," he concluded.
Written by Computing SA staff