Sender ID wave floats IronPort's boat
E-mail security company IronPort is the latest to get behind Microsoft's Sender ID e-mail authentication standard.
E-mail security company IronPort is the latest to get behind Microsoft's Sender ID e-mail authentication standard.
IronPort's C-Series security appliances will incorporate Sender ID checks in the score system it uses to establish the reputation of e-mail senders. The company's Bonded Sender Program, which is used by e-mail marketers, will also use Sender ID data as part of its accreditation process for e-mail senders.

Download this free guide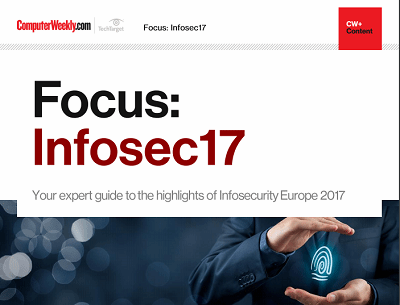 From forensic cyber to encryption: InfoSec17
Security technologist Bruce Schneier's insights and warnings around the regulation of IoT security and forensic cyber psychologist Mary Aiken's comments around the tensions between encryption and state security were the top highlights of the keynote presentations at Infosecurity Europe 2017 in London.
By submitting your personal information, you agree that TechTarget and its partners may contact you regarding relevant content, products and special offers.
You also agree that your personal information may be transferred and processed in the United States, and that you have read and agree to the Terms of Use and the Privacy Policy.
Microsoft's Sender ID technology closes loopholes in the current system for sending and receiving e-mail that allow senders - including spammers - to fake a message's origin. Organisations publish a list of their approved e-mail servers in the domain name system (DNS). Sender ID uses that record, called the sender policy framework (SPF), to verify the sender of e-mail messages to other internet domains.
Tens of thousands of internet domains have published SPF records since the standard was introduced by Meng Weng Wong of POBox.com. In May, Microsoft and Meng agreed to merge SPF with the Microsoft-developed Caller ID standard to create Sender ID, which was submitted to the Internet Engineering Task Force in June for approval.
Sender ID is fast becoming the de facto e-mail authentication standard, as Microsoft gains support from e-mail providers, internet service providers and e-mail software suppliers.
Microsoft has said that from October it will begin checking inbound e-mail to Hotmail, MSN and Microsoft.com for valid Sender ID information. E-mail messages that fail the check will be subjected to additional scrutiny and filtering.
AOL will also begin using Sender ID checks on inbound e-mail in September, although AOL spokesman Nicholas Graham said that failed checks alone would not result in messages being bounced.
"Momentum is growing," said Microsoft antispam director Craig Spiezle. "I think you're going to see a sea change, where we need to move to implementation and see what breaks and what doesn't break."
IronPort said supporting Sender ID would help its customers fight spam and provide more accountability in the e-mail system. The company plans to incorporate Sender ID in its products by October.
Paul Roberts writes for IDG News Service
Read more on IT risk management