SEC takes Siebel back to court over disclosure rules
The US Securities and Exchange Commission (SEC) has filed a lawsuit against Siebel Systems, charging the company and two top...
The US Securities and Exchange Commission (SEC) has filed a lawsuit against Siebel Systems, charging the company and two top executives with violating disclosure rules for the second time.

Download this free guide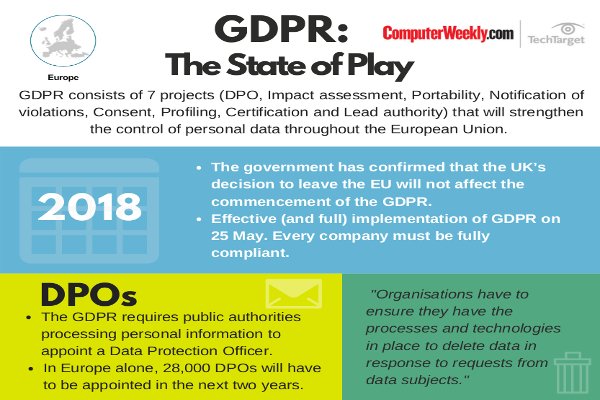 Infographic: GDPR - The State of Play
Get the latest information on how GDPR is going to affect your business and how to avoid any unwanted fines with this simple infographic.
By submitting your personal information, you agree that TechTarget and its partners may contact you regarding relevant content, products and special offers.
You also agree that your personal information may be transferred and processed in the United States, and that you have read and agree to the Terms of Use and the Privacy Policy.
Siebel settled with the SEC in late 2002 over charges it had violated Regulation FD, a rule enacted in 2000 which bars companies from selectively disclosing material information. Without admitting guilt, Siebel paid a $250,000 (£138,000) fine and promised to avoid future Regulation FD violations.
The latest lawsuit charges Siebel with breaking the rules a second time and failing to implement proper controls.
According to the SEC, Siebel chief financial officer Kenneth Goldman and senior executive Mark Hanson spoke privately with investors in April 2003 at a meeting and dinner gathering arranged by Morgan Stanley.
Goldman allegedly made positive comments about Siebel's business activity and prospects, and the next day Siebel's shares rose 8% amid unusually heavy trading. By not publicly reporting Goldman's bullish comments within 24 hours, Siebel broke the disclosure rules, according to the SEC.
"The company did little to prevent future violations of Regulation FD," the complaint said. "On 1 May 2003, both Goldman and Hanson acted knowingly or recklessly when they learned that the market was reacting to rumours of what was said and failed to promptly cause Siebel to issue a public disclosure within the time period mandated by Regulation FD."
The SEC has asked the court to permanently restrain Siebel from violating Regulation FD and a related rule requiring companies to maintain disclosure controls and procedures. It also seeks a court order restraining Goldman and Hanson from abetting disclosure violations, and asks for civil monetary penalties from Siebel and the two executives.
Siebel is the first company to be charged twice with violating fair disclosure rules. It is also the first to be charged with not maintaining proper disclosure controls.
SEC attorney James Meyers declined to speculate about the size of the financial penalties that might be imposed.
Meyers said it will be up to the court, if it agrees that Siebel recklessly broke the law, to determine what steps are necessary to ensure the company's future compliance.
The SEC has asked the court to impose changes in Siebel's procedures for controlling sensitive information.
In its complaint, it argued that Hanson was given responsibility for Siebel's Regulation FD compliance procedures, but did not prioritise that task and did not respond adequately after last year's meeting.
Stacy Cowley writes for IDG News Service
Read more on IT legislation and regulation