RetrievalWare 8.0 aims to hone content management
Convera's latest version of knowledge discovery platform RetrievalWare 8.0 aims to combine proven enterprise search and...
Convera's latest version of knowledge discovery platform RetrievalWare 8.0 aims to combine proven enterprise search and categorisation capabilities with a new dynamic classification methodology to help organisations automate knowledge management and discovery processes.

"By providing a single integrated platform where users can personalise search results through the use of dynamically generated classifications, RetrievalWare 8.0 organises and delivers enterprise content in the context of the request, regardless of the format, language or storage location of the retrieved data," said Piet Dempsey, managing director of asset management solution provider Knowledge Focus, which distributes RetrievalWare.

Download this free guide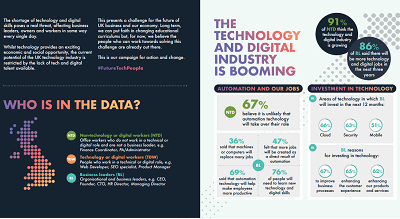 Infographic: How to future-proof UK technology
There is no doubt that the technology industry is booming right now, bringing with it exciting social and economic opportunities. However, there is a real fear that the UK industry may be stunted due to the lack of talent available. This e-guide helps to break down the future fears and expectations of dozens of business leaders and tech workers.
"With dynamic classification, businesses can slice-and-dice search results, which allows users to discover hidden information by identifying previously unknown relationships among data entities."
The new search platform is designed to offer a 360-degree view of all content stored within its databases and the ability, through the use of sub-categories, to drill down into result sets until very specific information is uncovered.
"Consequently, RetrievalWare 8.0 is particularly effective in driving knowledge discovery in multinational corporations," Dempsey said. "Evaluating a word in a different language as a concept ensures that employees in remote worldwide offices have access to all critical product and company information on one corporate portal, without having to unnecessarily translate everything on the system."
Graham Charlesworth, vice-president and general manager of European operations at Convera, said, "Burgeoning information quantities, regulatory compliance requirements and competitive drivers for speedier, more accurate data analysis continue to drive the need for better knowledge management processes."
Written by Computing SA staff