W3C completes web scripting specs
The World Wide Web Consortium (W3C) has completed a set of technical specifications that define how scripting programs interact...
The World Wide Web Consortium (W3C) has completed a set of technical specifications that define how scripting programs interact with web pages. The development marks an important step toward interoperability on the web and is a sign of the web's growing maturity, according to an industry analyst.

Download this free guide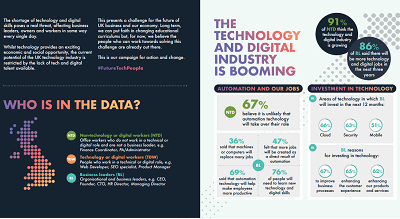 Infographic: Future-proofing UK technology
The current potential of the UK technology industry is restricted by the lack of tech and digital talent available. Read through this challenge for the future of UK business and our economy.
By submitting your personal information, you agree that TechTarget and its partners may contact you regarding relevant content, products and special offers.
You also agree that your personal information may be transferred and processed in the United States, and that you have read and agree to the Terms of Use and the Privacy Policy.
The W3C recommended its Document Object Model (DOM) Level 3 Core and DOM Load and Save specifications. A recommendation means the consortium considers a specification stable and ready for use. DOM level 1 and 2 have already been recommended.
Together, the DOM specifications define the APIs (application programming interfaces) that programs use to access, manipulate and manage HTML and XML (Extensible Markup Language) documents. Their completion makes possible "more sophisticated and powerful combinations of scripting languages and XML documents and data, including the critical web services applications space", the W3C said.
The completion of the DOM specifications is a sign that the web has come of age, said Illuminata analyst Jonathan Eunice. In the 1990s, the development of competing web browsers from Microsoft and the Netscape led to incompatibilities in the way software programs interact with HTML and XML documents.
"Standardising the DOM solves one of the longest-standing and ugliest chapters of practical non-interoperability the web has seen. The Microsoft and Netscape/Mozilla camps built hugely incompatible implementations of how programs work with HTML and XML documents," he said.
"Today's W3C standardisation helps put the commonality back and reunify the web, the way it should be."
Some programmers will continue using browser-specific extensions they are familiar with, Eunice noted, and the web's incompatibilities will not disappear overnight. But the completed standards mean developers now have a way to write compatible code and to fix incompatible code already in use,.
The W3C's work on the DOM specifications began in 1997 and involved more than 20 organisations, including IBM, Macromedia, Sun Microsystems, Microsoft, the National Institute of Standards and Technology (NIST) and the Object Management Group.
The DOM test suites have been updated to include the new specifications and developers can start using them immediately. More information is available at http://www.w3.org/DOM/
James Niccolai writes for IDG News Service