HP forges ahead with FATA drives
Hewlett-Packard claims to have stolen a march on the entire storage market by copyright protecting the development work it has...
Hewlett-Packard claims to have stolen a march on the entire storage market by copyright protecting the development work it has carried out on its next-generation products.

Download this free guide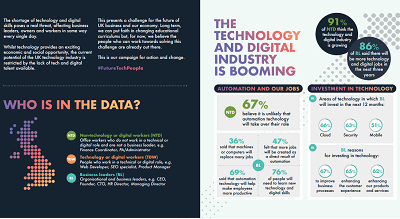 Infographic: How to future-proof UK technology
There is no doubt that the technology industry is booming right now, bringing with it exciting social and economic opportunities. However, there is a real fear that the UK industry may be stunted due to the lack of talent available. This e-guide helps to break down the future fears and expectations of dozens of business leaders and tech workers.
HP's 250GB Fibre Attached Technology Adapted (FATA) drives - announced earlier this week - enable both critical and non-critical data to be stored in the same array whereas previously two separate arrays were needed, increasing purchase and admin costs.
The FATA drives were developed with both Seagate Technology and Hitachi Data Systems, and all work between the three is under copyright. That means that HP has an effective stranglehold over the sale of the new drives.
With other manufacturers such as Western Digital and Maxtor still far off producing their own FATA drives, the big storage companies, including EMC, IBM and Storage Technology are left languishing behind.
"We'll be 12 to 18 months ahead of our main competitors in launching FATA drives," said HP UK storage business unit manager Ross Logan.
IBM and EMC are thought to be working on mixing and matching Fibre Channel disks and FATA-type disks in their Shark and Symmetrix arrays, which would simplify management and lower ownership costs and regain ground covered by HP.
Seagate does not yet offer a 250GB drive, but it will. Ian O'Leary, the company's European corporate communications manager, said, "This is another example of Seagate working strategically with its key OEM partners to provide them with key enabling technologies for their unique solutions. A disc drive similar to that which was described in the HP press release will be announced by Seagate in the coming weeks."
Hitachi's Deskstar 7K250 Capacity rotates at 7200rpm, has a 250GB capacity and either serial or parallel ATA interfaces. This could have been the development base for Hitachi GST's FATA development work.
A Hitachi GST spokesperson said, "Hitachi does have a relationship with HP, but we can provide no details of the nature of this relationship, or the connection in regard to any specific product."
Meanwhile, HP is making the most of its head start by releasing a range of FATA products. "Down the line you will see from HP a number of other announcements of smaller capacities than 250GB and some higher," Logan said.
Chris Mellor writes for Techworld.com