Toshiba to reorganise PC business
Poor financial results force PC manufacturer to downgrade and restructure
Toshiba is planning a sweeping reorganisation of its PC business that will cut the number of platforms it uses and see some manufacturing and design work shifted outside of Japan or outsourced, the company said this week.

Download this free guide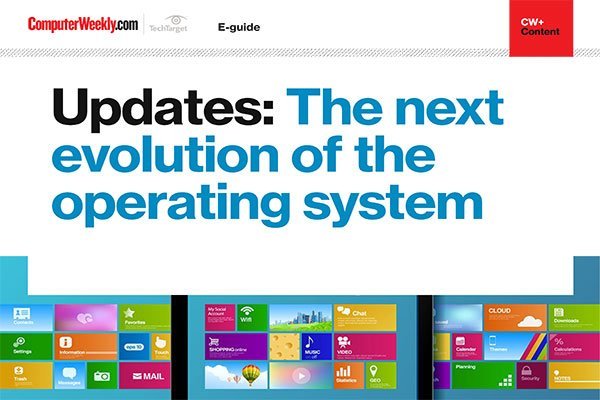 Software Updates: Our latest e-guide is available for your device. Download now?
See how operating systems are evolving with the help of continuous updates and learn about how the Spectre and Meltdown microprocessor flaws have led to improved, more secure processors being released and how Microsoft is evolving its Windows desktop operating system.
By submitting your personal information, you agree that TechTarget and its partners may contact you regarding relevant content, products and special offers.
You also agree that your personal information may be transferred and processed in the United States, and that you have read and agree to the Terms of Use and the Privacy Policy.
News that 500 jobs will be lost throughout its PC operations came as the Tokyo-based company disclosed that its PC business recorded a loss for the period between April and June of this year. Toshiba also cut ¥50 billion ($431m) from its group full year net sales forecast and ¥30 billion from its group operating profit forecast.
The company listed a number of reasons for the downgrade, including falling prices, but said its main problem is its wide product line.
"Our biggest problem is that we have too many platforms and that raises the cost for each PC," company spokeswoman Midori Suzuki said on Thursday.
As a result, Toshiba plans to reduce the number of motherboards it uses in its PCs by 30 per cent and the number of components it uses by 20 per cent. The goal of bringing more commonality to the company's PC range is a shorter development time and lower costs, the company said in a statement.
Toshiba also plans to add 50 engineers to its design centre in Hangzhou in eastern China and to outsource the development of commodity models. Toshiba wouldn't identify its outsourcing partners, but it uses mainly Taiwanese companies for PC production.
Toshiba, which has traditionally been stronger in the corporate market than the consumer market, said a shift in sales towards consumer models has also hit its business.
"Before, our main business was to corporations but now we have to increase our business to individual customers because corporate investment is not increasing," Suzuki said.
Like most corporate reorganisations announced in Japan in the last few years, Toshiba is also reviewing the production side of its operations and will move some jobs offshore.
The reorganisation is to be completed "as soon as possible," Suzuki said.
Martyn Williams writes for IDG News Services