First US automated alert net goes live
A public/private security partnership based in Oregon has activated what is being described as the nation's first fully...
A public/private security partnership based in Oregon has activated what is being described as the nation's first fully automated, web-based regional security alert system.

Download this free guide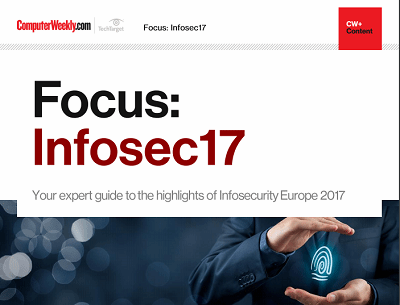 From forensic cyber to encryption: InfoSec17
Security technologist Bruce Schneier's insights and warnings around the regulation of IoT security and forensic cyber psychologist Mary Aiken's comments around the tensions between encryption and state security were the top highlights of the keynote presentations at Infosecurity Europe 2017 in London.
By submitting your personal information, you agree that TechTarget and its partners may contact you regarding relevant content, products and special offers.
You also agree that your personal information may be transferred and processed in the United States, and that you have read and agree to the Terms of Use and the Privacy Policy.
The system, known as RAINS-Net, will provide automated alerts from the Portland 911 centre to schools, hospitals, corporate building managers and others.
It was developed by the Regional Alliances for Infrastructure and Network Security, a partnership of 60 IT suppliers and more than 300 public and private organisations,
The network, which started as a pilot project in March, has applications for any national system that the US Department of Homeland Security (DHS) might try to create.
Charles Jennings, chairman of the RAINS alliance, and others have already briefed the DHS on the network and have obtained federal assistance in setting up and designing RAINS-Net to be capable of supporting future homeland security requirements.
There are two RAINS chapters, in Oregon and Washington state. However, RAINS executives are in discussions with three other states about expanding the network and alliance membership.
Jennings said other states could replicate the RAINS approach for much less than the $5m initial development price. RAINS-Net in Oregon is the result of a $60,000 state grant, thousands of hours of volunteer software development work and technologies donated by big IT companies based in Oregon or have a major presence there, including Intel, Fortix, Tripwire, Swan Island Networks and Centerlogic.
"Our nation's security experts have acknowledged the need for a better way to communicate sensitive information and to co-ordinate emergency response, [which is] especially critical in post-9/11 America," said Susan Zevin, acting director of the Information Technology Laboratory at the National Institute of Standards and Technology in Washington.
"The RAINS-Net approach can serve as a model that could be adopted by cities throughout the nation."
Dan Verton writes for Computerworld
Read more on IT risk management