Lindows rolls out low-cost, flat monitor PC
Linux-based software provider Lindows.com has rolled out a $449 (£280) flat-panel monitor PC.
Linux-based software provider Lindows.com has rolled out a $449 (£280) flat-panel monitor PC.
The PC adds to the family of low-cost computers recently launched by the company, which has been embroiled in a trademark infringement suit from Microsoft for the past two years over the similarity of the Lindows and Windows names.

Download this free guide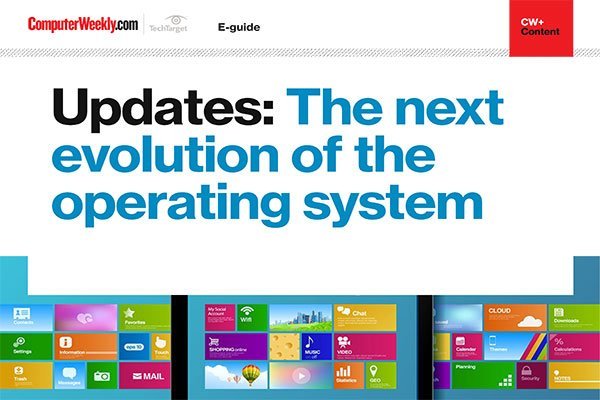 Software Updates: Our latest e-guide is available for your device. Download now?
See how operating systems are evolving with the help of continuous updates and learn about how the Spectre and Meltdown microprocessor flaws have led to improved, more secure processors being released and how Microsoft is evolving its Windows desktop operating system.
By submitting your personal information, you agree that TechTarget and its partners may contact you regarding relevant content, products and special offers.
You also agree that your personal information may be transferred and processed in the United States, and that you have read and agree to the Terms of Use and the Privacy Policy.
Dubbed "KooBox", the PC comes with a 14.1in LCD flat-panel monitor, a CD player, network card, modem, keyboard, speakers, mouse, Lindow's OS 4.0 and Lindows suite of office software.
The software is compatible with Microsoft Office file types. Buyers of the PC will also be able to access and download more than 1,500 applications from the company's Click-N-Run Warehouse.
The computer comes with a Duron 1.2 GHz processor from Advanced Micro Devices, a 20Gbyte hard drive and 256Mbytes of SDRAM (synchronous dynamic RAM). If this is not powerful of enough for some users, Lindows is also offering a deluxe version of the computer with an upgraded processor, a 60Gbyte hard drive, 512Mbytes of SDRAM, DVD and CD-RW drives and a 3D graphics card for $699 (£434).
The PC comes with a 90-day warranty and three-month trials of virus scan and web filtering software.
Scarlett Pruitt writes for IDG News Service