IBM and Infineon talk up magnetic memory
IBM and Infineon Technologies will outline their advances in developing magnetoresistive RAM (MRAM) technology in a paper...
IBM and Infineon Technologies will outline their advances in developing magnetoresistive RAM (MRAM) technology in a paper presented today at the VLSI Symposia in Kyoto.

Download this free guide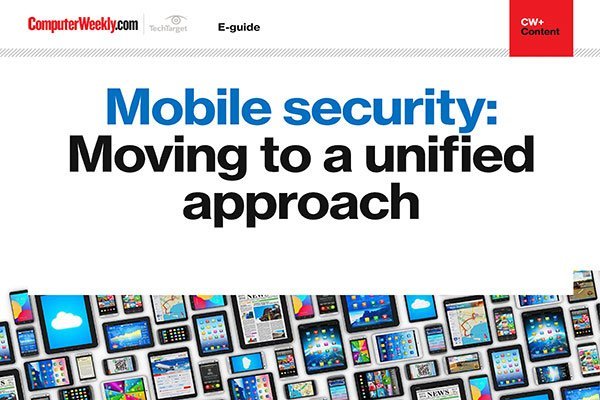 3 expert insights into how mobile security is evolving for business
Download this e-guide to read expert insights into how the current trends in mobile security strategy are showing a move from mobile device management, to enterprise mobile management and unified endpoint management - indicating an evolution towards a unified approach to mobile security.
MRAM is a nonvolatile type of memory, which means it can store information for extended periods of time without a power supply. Mobile phones and PDAs use a type of nonvolatile memory, called flash memory, which stores data without having to save it to a hard drive.
Infineon and IBM's MRAM technology takes the idea of nonvolatile memory a step further by integrating MRAM into a memory cell with an area of 1.4 square microns developed with 0.18-micron process technologies. This 128K bit MRAM chip is about 20 million times smaller than a pencil eraser, and is the smallest MRAM chip to date, said Bill Gallagher, manager of magnetoelectronics at IBM Research.
MRAM technology had been used in military and aerospace environments, but has not been a mainstream technology. DRAM dynamic RAM (DRAM) technology dominates the market for PCs and notebooks, but MRAM technology could allow portable devices such as notebooks or PDAs to use less power.
"It's a good combination of density, speed, and nonvolatility," Gallagher said.
DRAM technology is cheap and can store a lot of data, but requires a power charge and is slow. Another type of memory, SRAM (static RAM), is a high-speed memory technology, but it is more expensive than DRAM.
IBM and Infineon's technology could eliminate the boot process in normal PCs, when the operating system is loaded from the hard drive, Gallagher said. MRAM could store the entire operating system in memory, so it could be launched immediately when power is activated.
The two companies are expected to produce samples of the technology by early 2004, and hope to have products out with MRAM in 2005.
The VLSI Symposia is held annually to present advances in processor design and implementation. Companies including Intel, Texas Instruments, Hitachi, Motorola, Advanced Micro Devices and Sony are expected to make presentations on a variety of topics. The Symposia runs until Saturday.
Tom Krazit writes for IDG News Service
Read more on Mobile hardware