Analysts claim lack of technology development means stagnant IT spend for 2003
Analysts have claimed that there are few major technology developments that will stimulate IT spending next year.

Download this free guide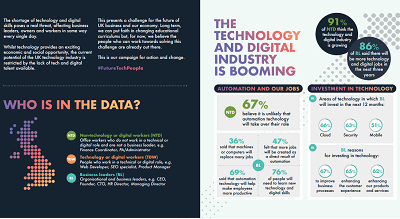 Infographic: How to future-proof UK technology
There is no doubt that the technology industry is booming right now, bringing with it exciting social and economic opportunities. However, there is a real fear that the UK industry may be stunted due to the lack of talent available. This e-guide helps to break down the future fears and expectations of dozens of business leaders and tech workers.

Analysts have claimed that there are few major technology developments that will stimulate IT spending next year.



The situation will be unlike the aftermath of the recession in the early 1990s, when the promise of client/server computing helped spur IT investments.

"I don't see any technology out there that's causing companies to open up their wallets," said Howard Rubin, executive vice-president at Meta Group.

The analyst group is projecting a worldwide contraction of 3% to 5% next year compared with 2002.

That's only slightly more pessimistic than forecasts by other IT consulting and market research firms. Forrester Research is pegging IT spending growth at just 1% next year, whereas IDC expects an increase of 2% to 5%. Gartner is the most optimistic, predicting a 7% gain.

Merrill Lynch this month said that 62 out of 100 chief information officers it surveyed in November said their companies were trying to reduce IT spending as a percentage of total revenue.

The 75 US and 25 European companies surveyed devoted an average of 5% of their revenues to IT. Only 22 of the respondents said they planned to increase IT spending-to-revenue ratios next year.

New technologies such as Web services are unlikely to lead to a widespread lift in IT spending next year, said John Puckett, the former vice-president and general manager of wireless and Internet technologies at Polaroid.

"Any gains in spending will be the result of an improving economy and a rise in corporate profits," said Puckett, who is now an independent consultant. He expected any new investments made next year to address "pain thresholds", such as IT infrastructure projects aimed at reducing costs or improving service levels for end users.

Analysts did identify some technology areas that could have increases in spending. Next year, for example, the end of Microsoft's support for Windows 98 and NT 4.0 will require many companies to upgrade their desktop systems, said John Jordan, a principal at Cap Gemini Ernst & Young.

Spending on security is also likely to increase.